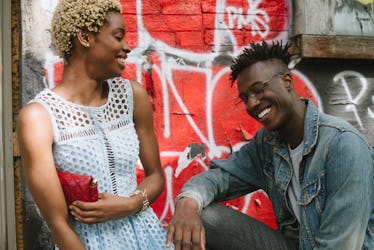 Here's How To Strike up A Convo With Your Crush IRL, According To A Dating Coach
The rise in popularity of dating apps has significantly reduced the pressure that used to placed on only meeting people IRL. But, as a result, some folks have become much worse at flirting with people in person. What happens when you really want to talk to that cutie in front of you in line at the coffee shop? Or the really stylish person holding your favorite book, sitting across from you at the bar? Never fear, internet fiends: There are still numerous ways to learn how to talk to your crush in real life, as opposed to just swiping right.
There's good news — if your crush already likes you back, all you need is an icebreaker to get the conversation started. Even if your casual chat at a bar about what your crush is reading doesn't lead to a date, you should be proud of yourself solely for taking the risk! Keep in mind that just because someone doesn't pick up a conversation, doesn't necessarily mean that they are personally rejecting you.
I asked dating coach Erika Ettin to provide readers with tips for confidently approaching someone in person. Her advice is sure to help you strike up a conversation with someone swoon-worthy.