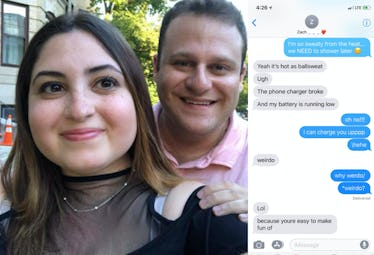 I Texted My Partner ~Flirty~ Messages For Five Days & Here's What Happened
Lauren Dana
Summer is an exciting time — everyone's adrenaline is pumping, things are heating up (literally and figuratively), and there's just ~good vibes~ all around. But after July, the August blues set in, and the season of summer lovin' comes to a (drastic) halt. In an effort to fight away the summertime sadness, I've taken flirting with my boyfriend to new levels to distract myself from the impending chilly, cloudy months ahead. (Why can't it be summer all year 'round?) I decided that for five days, I would flirt with my boyfriend over text.
For the sake of the experiment, I vowed to send my boyfriend, Zach, a solid mix of silly and steamy text messages for five days straight (without his knowledge of this experiment, mind you!) to see if the texts had any impact on our relationship and our post-work rendezvous. Usually, Zach and I text pretty boring things: what we need at the grocery store, if we have plans later, and whatnot. Sometimes, though, we'll text each other loving messages of encouragement and support (my favorite texts to receive!). But thus far, we haven't really experimented with flirty texts — just goofy ones.
The experiment was cringe-worthy yet hilarious. Here's how it impacted our relationship.