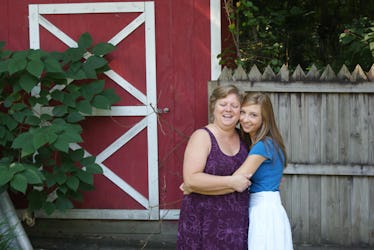 I Asked My Mom To Rank My Ex-Boyfriends & She Did NOT Hold Back At All
Genevieve Wheeler
First and foremost, let me just take a moment to say that my mom is the actual best. She and I are crazy close, and she's always taken my best friends, boyfriends, and the stray cats I've found in abandoned motel rooms under her wing (pretty literally) — no hesitation or questions asked. Despite her Mother Goose-level loveliness and acceptance, though, this woman's got opinions. (Trust me: You should see her Facebook page around election season.) And so, when I called her up and asked for her brutally honest feedback on my dating life, my mom ranked my ex-boyfriends in her usual fashion, without hesitation or questions asked.
Now, I've only dated three fellows who carried the bona fide, Facebook-official "boyfriend" title. But my mom decided to throw in a ranking of what she dubbed "a pile of flirtations" as well, including a few of the guys I had long(ish) running flings with as an adult.
Her overarching assessment of my dating life was, uh, not so great. When asked to describe my collective boyfriend(ish) history, she said, "It needs work. You're generally not into muggers and killers, though, that we know of, so that's good."
Here to make you proud and side-step those murderers, Mom!
She followed that up with, "It's a little wonky in places. Did you get that? Did you get that it's wonky? Wonky's a good word for it."
Wonky. Roger that.
When it came to the individual dudes I've dated though, her vocabulary stretched beyond "wonky." Here's my mom's definitive ranking of my ex-boyfriends — from "pseudo son" to "terrifying."