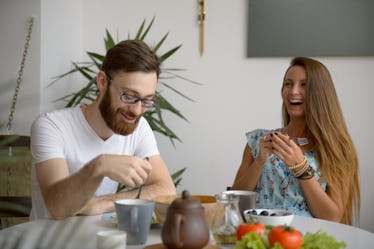 5 Ridiculous Things I Learned About Guys After Living With Male Roommates
Much like Billy Crystal's character in When Harry Met Sally, I've often questioned whether or not men and women can be platonic friends. Maybe it's a consequence of the fact that I can count my platonic, male friends on one hand, or maybe it's because most of those friendships turned into love triangles worthy of a YA novel, but I was inclined to agree with Harry: Men and women are lovers, enemies, or relatives. It's tricky to be anything more, or anything less. At least, this was my thinking before I started living with guys.
I've lived with men (men who weren't my dad, that is) on two instances, and under very different circumstances. When I was 19, one of my best friends moved in with my mom and I. We had an extra bedroom, our house was about 30 minutes closer to the frozen yogurt shop (where he and I both worked) than his, and he didn't have the greatest situation at home, anyway. It made sense. This friend and I, who had always had a semi-romantic relationship, officially started dating a few months after he moved into the bedroom down the hall. And he, my mom, and I lived together like one big, happy, and largely dysfunctional family.
Years later — long after my relationship with Fro-Yo Bae had come to an end (my gosh, if ever he reads this, he's going to hate that title) — I spent a semester studying abroad in London. And, once again, I found myself sharing a living space with the opposite sex. But this time, there were four of them. It was... an eye-opening experience, to say the least.
And after reading this guy's Twitter thread about living with girls (which is wildly accurate, IMO), I thought the Internet might be interested in hearing how the other half lives. So, based on my limited experience living with these dudes, here are the five most ridiculous (and sweetest) things I learned about the male species.