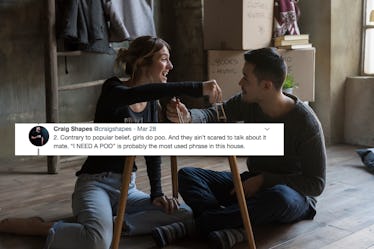 After Living With His GF & Her Friend, This Guy Had Some Big Revelations About Girls
My family is very heavy on women. I grew up with a mom, a sister, and two female cousins my age who were never not with me. Yes, I did have my dad for some refreshing male energy, but for the most part, it was all ladies. Then, I went to college and lived with female roommates for all four years. And now, I live in NYC where I live with — you guessed it — more women. So it's safe to say I know what it's like to live with ladies. That said, this guy's Twitter thread about living with girls is pretty much the most accurate thing I have ever read in my entire life.
The guy in question here is a British man named Craig Shapes (@craigshapes on Twitter). Last year, Craig moved in with his girlfriend. This, in and of itself, is already big, life-changing milestone for any couple, but Craig's experience was even more life-changing than the regular average Joe's. You see, he didn't just move in with his girlfriend. He moved in with his girlfriend... and her best friend. I'm sure every woman reading this right now is immediately understanding why this is a very different situation.
On the off chance that you don't quite understand why Craig moving in with his girlfriend and her best friend is any different from moving in with just his girlfriend, allow me to unpack this a little bit. You see, moving in with a significant other of the opposite sex is definitely an eye-opening look into the way the other person lives, but for the most part, it's happening on an even playing field. Moreover, because the two of you are ~lovers~, there might be more of an effort to keep your less desirable habits at bay in the beginning.
But when a man moves in with his girlfriend and her best friend, the dynamic completely shifts. This man is entering the land of women. Women who are, most likely, a lot more... comfortable with their best friend than they may be with their romantic partner. (Of course, everyone's different, though.) At the end of the day, this is a really awesome opportunity for Craig because, for the past year, he's gotten an unfiltered, behind-closed-doors view of what female friendships are really like.
Craig was an astute student and learned a lot from his girlfriend and her best friend, so much that he decided to make a list of 15 lessons he learned from this experience and post them on Twitter. Read along for yourself below.