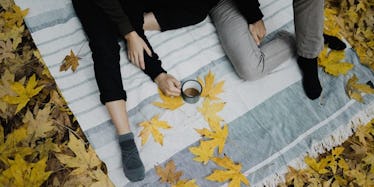 6 Surefire Ways To Tell You And Your Partner Are Compatible On A Romantic Level
There are many different ways to love your person. Obviously (hopefully), the physical attraction is intoxicating. Then, there's the intensity of intellectual connection and similar interests. There's also the bond that results from both of you sharing "work hard, play hard" mentality. Or, maybe more accurately, a "let's-just-watch-Netflix-and-eat-a-pizza-every-Saturday-forever" mindset. But you may be wondering, "Are we compatible on a romantic level?"
It's the age of iPhones and Amazon, and you and your partner are probably not making romantic gestures a la Romeo and Juliet. (I mean, TBH, they were a little extreme.) In 2017, writing handwritten love letters can feel more creepy than romantic. Putting rose petals on the bed is more cringeworthy than sexy.
Despite my cynicism, romance does exist and it is an important component to any relationship. Knowing your partner's romantic inclinations is important to maintaining your relationship. Elite Daily spoke to relationship expert April Masini about six surefire ways to tell if you and your partner are compatible on a romantic level.
1. You Love Having Your Date Nights Together
Dates are usually zero percent romantic when you are going on a lot of them in an effort to find a SO. In fact, they can be work. But date nights once you are in a relationship are quite the opposite. If you are your partner make time for special outings together, you're definitely romantically compatible.
"You're happy with the quality and quantity of them," says Masini. "You both always prioritize them and thoroughly enjoy them."
Plus, alone time with boo leads to bone time with boo. (Cringing at myself for that one.)
2. You Love The Gifts You Get Each Other
"When you know what makes your partner happy, and they can do the same for you, you're on the same page romantically," says Masini.
And you don't need to pull out all of the stops or spend half of your paycheck on your boo, but little gifts show your partner how much you care. "It's not just about wowing each other with lavishness — sometimes the best gift is a poem, or favor," explains Masini.
It doesn't have to be some giant romantic gesture. Maybe your partner feels a bit hungover at work after your epic date night — have Postmates bring them Gatorade and an egg sammy. Or maybe they're been traveling like crazy for work — do their dry cleaning as a nice surprise.
I, for one, love any and every gift I've ever gotten. It shows that someone is thinking about me, and that always feels nice.
3. You Feel Proud To Be With Your Partner
I'm smirking just thinking about how sweet it feels to genuinely be very proud of your partner. I love the feeling of championing someone's successes; it solidifies that you and your lover are truly on the same team.
"When your partner isn't your best friend — but is your better half (as corny as that sounds) — you've got great romantic chemistry," says Masini. "This kind of connection is powerful in a relationship."
Who would want a partner who's rooting against them? Only a masochist, which you are not, because you are reading this helpful article.
4. Your Partner Does Something Special For You
Masini says that if there is something you've asked for and never gotten, and your partner delivers on that, you should take note. This is a next-level indication of your partner's feelings for you, and it definitely means you are romantically compatible.
"For instance, a first date is to an obscure foreign film and then out to your favorite place that no one knows about but you," she shares.
It's intimate and personal and shows exactly how many feels your partner has for you. [Insert heart eye emoji here.]
5. You Get Through The Holidays Without Fighting
Think about it: Holidays are complicated even when SOs are not involved. If you and your partner can handle the holidays without a 2 a.m. argument in front of the Titanic poster in your childhood bedroom, you're romantically compatible.
Masini says that if "your partner knows how to make you happy by showing up, inviting you, treating your family and friends well," then they are prioritizing your happiness.
Collective "aww."
6. Affection And Sex Are Easy For You and Your Partner
In a relationship, there will be 100 degree summer nights when you don't feel like spooning, or days where your libido is running on empty, but if you and your partner are showing your love for each other through easy, breezy physicality, that's a great sign that you are romantically compatible.
That's "because you're both in tune and on the same page — not just with chemistry, but with your heart and mind, as well as your body," says Masini.
Again, romantic compatibility comes down to being on the same page. It should feel easy. If you and your partner are both taking care of each other without too much effort or stress, you get each other and you know how to meet each others' romantic needs.
If your relationship doesn't exhibit these surefire signs listed above? Don't stress. Masini recommends that you remember to act with empathy, show generosity, and plan a gesture to show your partner how you feel. They will take note, and they will probably reciprocate.
Romance only takes a little bit of effort if you do it right.