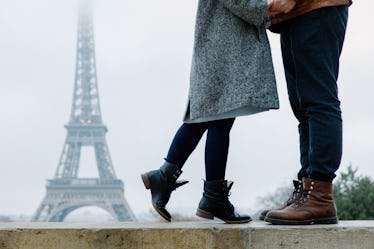 I Was A Tinder Tour Guide For A Date From Out Of Town & Here's What Happened
I sat with my feet dangling out the window of my rented Parisian bedroom. With a bottle of rosé in one hand and my phone in the other, I was alternating swipes through Tinder with swigs of pink wine. I'd been in the capital for a week, and struggling to exchange flirtatious banter with fellows in French, when I came across an American named Patrick.* He was one year my junior, with a profile that screamed "frat-boy-turned-finance-bro" — the exact opposite of my type. But I was dying to speak some English and thought it might be fun to play Tinder tour guide, so I swiped right. We were a match, and with that, the craziest adventure of my dating life began...
Though Paris is far from my hometown, I'd say I have a better feel for the city than your average tourist does. Between the two and a half years I spent living there as a tot, the semester I spent interning at a Parisian magazine in college, and the fact that I'd jet to the City of Lights every chance I got during my five months au pairing in the Loire Valley, I've got a solid sense of which sights to see and which to skip. So when Patrick told me that he'd be working in Paris for the next month and asked which neighborhoods he should be exploring at night, I jumped at the chance to show him around.
"If you feel like wandering around one night this weekend (or week, if you're rebellious), let me know!" I said, dropping my phone number in the next message. And a few days later, we had plans to meet up near Montmartre that Friday.
Thanks to a series of bus delays and summer thunderstorms, I arrived at Le Pigalle — the chic hotel lounge where I'd suggested we meet (nestled among rows of sex shops, of course) — 50 minutes late and dripping wet. Ordinarily, these are the sort of circumstances that would lead me to break out in a stress rash, but Patrick had the kind of laid-back disposition that immediately put me at ease. And, OK, fine, the plastic cup of rosé I'd knocked back on the bus didn't hurt.
We chatted about our favorite spots in Brooklyn and swapped crazy college stories as he nursed a beer and I chugged my (second) glass of wine. Less than an hour later, I insisted we go on an adventure and led us through the rainy streets of the 18th arrondissement, from seedy rum bars up to the famed church Sacré-Cœur.
It was so. Much. Fun.
We spent the rest of the weekend exploring the city by night (and separately nursing our hangovers by day). We shared stories over cocktails and pommes frites at speakeasies and corner cafés.
I was set to fly out on Thursday morning, and debated inviting him out that Wednesday. I knew he had work, and I had an early flight to Portugal, but I just couldn't resist. So I crossed my fingers and texted him, "So it's my last night in Paris and I feel like drinking Champagne on a rooftop. Care to join?"
"Well, I can never say no to rooftops and Champagne, so I'm definitely in," he replied. Swoon.
We met up at the rooftop of Hotel Novotel by Montparnasse that night (the view was like, fine) before, once again, setting off on an adventure.
From Montparnasse, we zig-zagged across the city as the sun started setting, stealing glances at the Eiffel Tower; at twisted iron balconies, speckled with red flowers; at the Musée d'Orsay and the Louvre and the Tuileries after dark, lit by spotlights and stars. I sighed about 300 times on our little trek, because my goodness, Paris is breathtaking.
After indulging in 30-euro cocktails at The Ritz (and chatting for a while with Colin Peter Field, the most charming bartender in all the world), we drunkenly decided to make our way to the Eiffel Tower. We'd just reached the bridge Pont Alexandre III when the clock struck midnight and the entire tower started sparkling with golden lights. I swear it was better than fireworks.
We rushed down the Seine. Once we got to a spot with a clear view, I turned to Patrick and uttered the most rom-com line I think I've ever spoken. "If you don't kiss me before the Eiffel Tower stops sparkling..."
But unlike an actual rom-com, the glittering lights stopped the moment I'd finished that sentence. I started swearing.
"Well, we're still under the Eiffel Tower! In Paris! At midnight!" Patrick said.
I glared at him like a petulant child. Then he grabbed me and kissed me. Under the Eiffel Tower. In Paris. At midnight. And I bit his lip kind of aggressively because I can't have nice things.
The rest of the night was spent playing footsie on the Seine, giggling like teenagers out past their curfew. Around two in the morning, I knew I had to head back to my apartment — I had a plane to catch in seven hours and my suitcase wasn't even entirely packed. And so, Patrick and I exchanged one last kiss — the scruffy, lingering, grab-you-by-the-waist kind — and I made him promise to go on lots of adventures over the next month.
Collectively, these were some of the best dates I've ever been on. The whole affair deepened my appreciation for dating apps, midnight kisses, and the magic of exploring familiar streets with those seeing them for the first time. So if you've got the chance to play Tinder tour guide anytime soon — particularly in a city as enchanting as Paris — I say take it. You might just end up with some crazy, Champagne-soaked memories like these.
*Name has been changed.
Check out the entire Gen Why series and other videos on Facebook and the Bustle app across Apple TV, Roku, and Amazon Fire TV.
Check out the "Best of Elite Daily" stream in the Bustle App for more stories just like this!