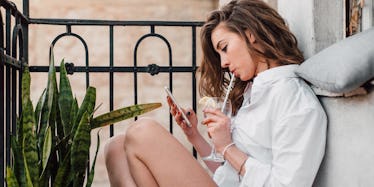 The Only Travel App You Need To Download Before Your Trip Abroad Is Tinder
Some of my favorite Tinder dates in NYC have been with foreigners. They were all men who were traveling, so they would only here in the city for a short period of time. It's true that a good deal of my affinity for these encounters is my debilitating adversity to commitment. Alas, I'm young. I like cute accents. Sue me.
In truth, I like that foreign Tinder dates' expectations are, if properly mitigated, typically relegated to a locally-led introduction to a cool new show, trendy speakeasy or buzzed-about restaurant, and then left at that. There are no worries about a second date, no fear of a cringe-worthy, half-hearted "Let's do this again," no wondering when he will (read: won't) send a follow-up text the next day.
So, it inevitably made my wonder, if "Tindering" (excuse the verb) with foreigners at home could be so enjoyable, would Tindering abroad be the same? Luckily for me (and you, and the sake of this article), I was about to find out.
Two inordinately long flights and eight bags of stale airport trail mix later, I found myself alone in New Zealand — a relatively impromptu vacation I'd planned in an attempt to regain some semblance of sanity after almost two years in NYC. Despite my mother's incessant warnings about using roaming cell data while abroad, two hours in, I'd already flipped on my Tinder app and watched as the little pulsating orbs caught me some local fare (Sorry, not sorry, Mom).
From a midnight driving tour of Auckland with New Zealand musical artists streaming on the radio, to bar hopping with a local ex-pat in the "adventure capital," Queenstown, to an impromptu (read: drunk) excursion to a three-story apartment with a charming Auckland native, each outing made me fall even more in love with the country (read: country's men) than I ever imagined I could. In all seriousness, the trip wouldn't have been the same without Tinder.
I wouldn't have met as many locals, seen as many niche destinations or truly understood the mindsets of those living in the country. This got me thinking: Maybe you haven't really traveled abroad until you've Tindered abroad?
In pursuit of justification for this assertion (aside from the fact that I crave attention from charming men with accents), I've compiled the following list of what Tindering abroad gives you to prove my point:
1. Built-In Tour Guide
It's obvious, but no trip abroad is complete without an insider guide from a local. You could pay for a tour service or pick up a random stranger at a bar, but Tinder makes it easy to set a certain degree of expectations (even if they're not maintained). Just make it clear that you're looking for hidden (but not too hidden) local destinations, and let the inevitable testosterone surrounding you do its work.
2. Insider Food Access
It's easy to get distracted by Michelin stars, Zagat ratings and other ambiguous top-down assertions of "quality," but a local 30-year-old man does not lie (when it comes to food, at least.) From the perfect fish tacos, satiating late night hole-in-the-wall drunk food, to the best locally-made brews, insider recommendations win out over "best of" lists every time.
Added bonus: Your Tinder date knows the staff and you wind up with insider access/free drinks/introductions to cute bartenders/I'm young and superfluous, don't judge.
3. Ghosting Justification
While frowned upon in the context of casual city dating, ghosting is a natural part of Tindering abroad. It's fair to assume your date/tour guide understands the one-time nature of what he or she is getting into just as well as you do. So, any post-date lack of communication is, for the most part, natural. Let's all collectively agree on the catharsis achieved by not having to worry about whether the next day "follow-up text" will come during the morning, afternoon or never.
4. Liberating Sense Of IDGAF
As someone who has definitely showed up to a date they were already over before it began, there's nothing quite as amusing (or addictively freeing) as realizing you don't care what the person on the other side of the table (or next to you at the bar, ideally) thinks. You're able to freshen up that old witty repartee you lost amidst the awkwardness of forced online dating, and remember that you do, in fact, have a personality that extends beyond the nodding- and smiling-self dating has discouragingly forced you to become.
Sure, he'll probably hate it and wish you asked him more questions instead of mock the fact that he unbuttoned one too many buttons on his hipster Henley, but you'll feel great. And that's all that matters. #StillSingle.
5. Hope
As one wise (foreign) Tinder date once told me, the people are as much a part of the traveling experience as the place. And by people, I mean men, of course. It's easy to feel defeated with dating/humanity when you're stuck repeating the same unsatisfying scenario an untold number of times.
Seeing that men and social norms differ in different countries is a reassuring way to remember that "finance guys" and "Brooklyn bros" aren't the only two options available to single women. This realization is simultaneously inspiring and depressing, considering you'll inevitably have to return to the source of your frustration and curse the day you were told it was no longer OK for you to rely upon fictional characters as love interests (talking to you, Mr. Darcy and Aragorn).
In conclusion, I recommend dating random men in foreign countries. Not (if you can believe it) in any advocation of promiscuity (that's cool too, though), but rather as a means to an unforgettable custom experience in an unexpected, unexplored location. This will prove to be a much more memorable adventure than any prepaid, bus-driven tour could ever offer.
Also, no commitment and free drinks. Holler.