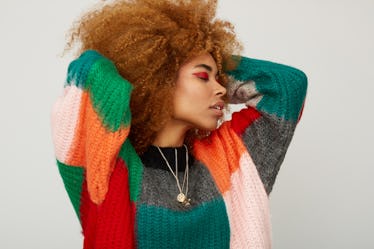 Here's How Your Brain Changes After Meeting "The One," According To Science
Let's admit it: Rihanna can do no wrong. In fact, her 2016 banger, "Love On The Brain" is literally right — scientifically speaking. Although poets may describe the emotional aspects of the first signs of true love, there's lot to be said about how your brain changes after meeting "The One." Love is a powerful thing. And apart from the ooey-gooey, I-want-to-carve-your-name-in-a-tree feelings, finding your special person has been linked to plenty physical changes as well, from glowing skin to lowered blood pressure. When getting physical with a special someone, anything from hugs and handholds to doing the dirty can increase your levels of oxytocin, the hormone of love.
In the Blavatnik Institute at Harvard Medical School's On The Brain newsletter, Jacqueline Olds, a Harvard Medical School (HMS) professor and couples therapist shared that when it comes to the brain, romantic love is #lit. According to Olds, parts of the brain literally light up on brain scans when people speak about the people that they're in love with.
If you've found "The One" and you're totally in love, you may have already noticed the ways in which your lifestyle has started to shift. But here are three ways that your might brain change as well.