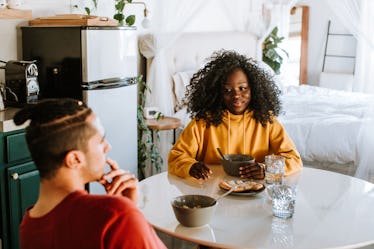 4 Ways Dating Someone Can Change Your Lifestyle, So You're Not Surprised
When you start a new relationship, you probably have a pretty strong sense of the person you're dating. You know if they're super into CrossFit or eating vegan, or if they exclusively watch Bravo reality TV shows. (More power to them honestly.) So it might not come as too much of a shock if you, too, start adopting those same habits after a few months of dating. The fact of the matter is, there are quite a few ways dating someone can change your lifestyle, and honestly? It's not always a bad thing.
But let's back it up a bit. What does it even mean if your lifestyle changes once you start dating someone new? "Lifestyle choices can revolve around what kind of food you'll be eating, where you'll be eating, where you will be traveling to, and what kind of experiences you'll be having day to day," John Keegan, dating coach, tells Elite Daily. "Are you interested in meditation, yoga, spiritual matters? Will your partner be into those things and will that be important to you that they are? Will you share in those experiences together?"
Dating someone definitely has the potential to change your lifestyle, but it's up to you to decide whether or not you want to let it. Here are the main ways in which your lifestyle might shift once you start dating someone new.