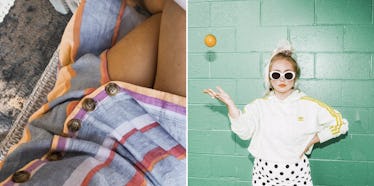 Taking Cool Detail Shots Of Your Outfit For IG Is Easier Than You'd Think
If you're a lover of Instagram like me, then you're always thinking about how you can take your feed to the next level. You're tapping the follow button on accounts that pop up on your Explore page, and shopping for pieces to add to your closet that are trendy and photo-shoot ready. Can I give you the scoop on how to take outfit photos for Instagram?
Curating a quality feed is about switching up your usual travel, lifestyle, or beauty content and giving the details some time to shine. It's about embracing lighting even if its not golden hour lighting and challenging yourself to think outside of the box. In my opinion, social media is a platform for creativity, inspiration, and showing off life in all its glory. (Although I do love a good double-tap, let's not make it into a popularity contest, OK?)
Simply put, even if you didn't win "Most Artistic" in your high school yearbook, give yourself the room and space to create. Put on the most electrifying or chic outfit in your closet and grab your camera. Find a cool wall in the middle of your city or a bush filled with blooming buds and flowers, and put these tips and tricks to the test. Here's exactly how to take outfit photos for Instagram.