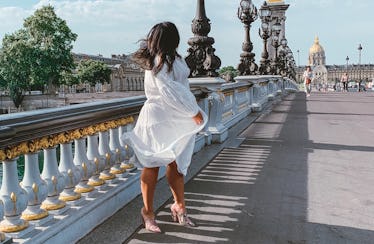 Looking Insta-Ready On Vacay Without Packing A Lot Is Easy With These 7 Tips
I feel like packing for a vacation is like playing a constant game of give and take. You have to decide whether or not to carry a ton of stuff, and you also have to balance having enough pieces with you to get all of the photos you want with the constrictions of your luggage. Knowing how to look Instagram-ready on vacation can be a serious struggle when you're trying to downsize your suitcase. Luckily, I've been on enough trips to have gathered up some intel to share with you.
I'm a huge advocate for packing in layers, switching up camera angles, bringing a ton of one-piece and multipurpose items, and much more so you can maximize the photographic-ness of your clothes. You don't have to bring a giant suitcase with you to have enough things for your photos, and you also don't have to worry that you didn't bring enough things because you just decided to travel with just a carry-on.
If you're heading on a vacation sometime soon and want to ensure that you get incredible travel photos for your Instagram feed — but don't want to worry about carrying a giant suitcase — try following some of these tips. They've gotten me through some of the most memorable trips of my life, and have gifted me with beautiful pics in the process.