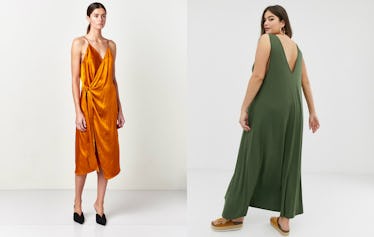 The Best Vacay Dresses For Summer 2019 Will Get You The Dreamiest Travel Pics
Tina + Jo/ASOS
Whenever I'm deciding what clothes to pack for any given trip, I always end up bringing a ton of dresses. Why? You only need to bring one piece, and it's a complete outfit already — no extra styling necessary. Over the past year or so, I've allowed myself to invest in quality dresses that are not only comfortable for vacationing in, but they're also beautiful and make for gorgeous pics on the 'Gram. I've selected the best summer 2019 travel dresses so that you, too, can create some seriously dreamy travel photos.
I know I'm not alone in saying that a major part of traveling is taking pictures to share with your family and friends. Of course, you want to wear the perfect outfits when you're planning out where to take your pictures. That's where these dresses come in. They're breezy, chic pieces that will catch the wind as you walk down a charming alley or along a shoreline. There's a variety of styles to choose from, and the mixture of colors is absolutely perfect for the season.
So, if you're looking to update your wardrobe for your summer adventures, consider investing in any (or all) of these pieces. You'll get some seriously dreamy pictures out of the process, and you'll have new dresses you can keep in your closet for many trips to come.