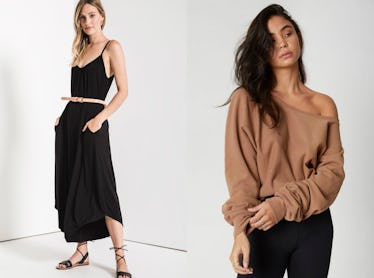 The Best Clothes To Travel In Are Both Comfy & Stylish For Your On-The-Go 'Gram
Z Supply/Joah Brown
If you're a frequent traveler — or even if you're not — one of the biggest questions on every trip you take is what you're going to wear when you're in transit. That is, what are the best clothes to travel in when you're on the plane, bus, train, or car that's taking you to and from your destination? You want to be comfortable enough to sleep and relax, especially if you're going on a long flight, but you also want to look chic. It's an endless struggle of balance.
With over 30 flights under my belt in 2019 alone, I like to think I've figured out the best formula for the perfect travel outfits, depending on what kind of vibe you're feeling. You can throw on the "not quite PJs" outfit for the days when you want to keep it cozy, or the "bougie AF" outfit for when you get that upgrade to business class. Regardless of the occasion, you're sure to find the perfect 'fit for your all of your travel needs on this list.
So, whether you're about to catch some sleep on the plane, or you're ready to hit the ground running once you land at your destination, you'll be able to find the perfect outfit for you on this list. Happy shopping, and bon voyage!