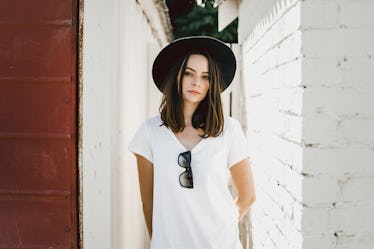 The Clothing "Kit" You Need This Summer, Based On The Type Of Traveler You Are
If you ask me, the biggest challenge for any traveler is being able to pack exactly what you need for a trip. The perfectly packed bag should have just the right amount of clothes in it: not too many, and definitely not too few. But when you're trying to cut costs by not checking a bag, and overcompensating for only bringing a carry-on by overstuffing it, you can run into issues. You might not have room for souvenirs, or you might have to sit on your luggage in order to close it. But the best summer clothing kits are here to make your life a whole lot easier as you get ready to pack for your next getaway.
What is a "clothing kit," might you ask? Clothing brands have figured out that people want to be stylish when they travel, but need some assistance in putting together the right pieces in a way that's both space efficient and chic. Sound familiar? To solve this problem, these brands have created sets of clothing, or "kits," that take the guesswork out of dressing yourself.
As someone who's on the road all the time, I'm frequently unpacking and repacking my bag based on the things that I need for each individual trip. But what these kits do to combat that constant confusion is to make it easy for travelers like me to just bring one set of clothes that can serve any purpose I might need on a trip. All I have to do is add my own accessories.
If you're ready for your mind to be blown and your life to be changed by the amazing invention of clothing kits, here are a few I think you should invest in.