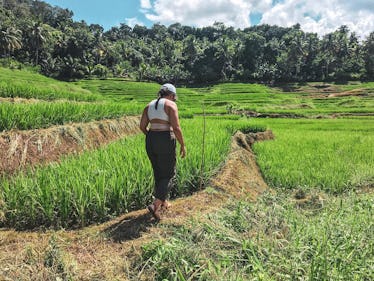 You Can Still Get The Best Instagram Pics When You're Traveling Out Of A Carry-On
For me, traveling is all about balance. It's a balance between relaxing and adventuring, in addition to seeing new places and going back to your favorite spots. And when it comes to packing, it's a balance between packing enough options and minimizing your luggage size. I'm a stickler for packing everything in a carry-on bag — even if it means I have to stuff my bag to the brim. But just because I bring one small suitcase, that doesn't mean I have to sacrifice bringing the things I need to get the perfect travel pictures. I've rounded up a few tips on how to get the best pictures on Instagram when you're traveling out of a carry-on.
Even though I refuse to bring a suitcase that won't fit in an overhead storage bin, I like to think that I've mastered the art of capturing beautiful travel shots when I'm on the road with just the items that are in that small suitcase. Travel-sized fabric steamers and hair styling tools are always worth the investment, as are beautifully chic travel bags. And bringing stackable accessories like sandals and fanny packs are great for adding variety to your outfits.
There are a ton of tricks for getting the perfect shots for the 'Gram when you're on the road, and you don't even have to pack a giant suitcase to get them. Here are just a few of my tips.