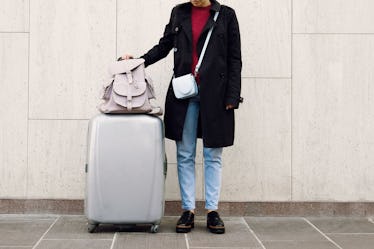 7 "Necessities" You Can Really Live Without When You're Tight On Packing Space
Danil Nevsky, Stocksy
Whenever I'm heading on a trip, packing light is a struggle. I always feel the need to bring along that extra set of clothes, shoes, and even sunglasses. Every little extra thing I decide to bring just takes up more space in my bag, making it heavier to lug around and leaving less room for souvenirs. Even though filtering out the things you don't really need seems like it's close to impossible, there are definitely some "necessities" you can live without when you're tight on packing space.
I'm definitely not saying that you should leave your toothbrush and underwear at home — those are actual necessities. But things like shower toiletries and a blow dryer are probably best left behind. They take up too much space, and make your bag heavier than it needs to be. Traveling light is always the way to go — especially when you're heading abroad — because some airlines even restrict the weight of your carry-on.
If you're prone to overpacking like me (I promise I don't judge.), there are ways to minimize how much stuff you bring with you. The next time you're heading out on a big trip, try leaving these things at home so you can make space for other things — like souvenirs and a ton of Polaroid pics to document the memories from your trip.