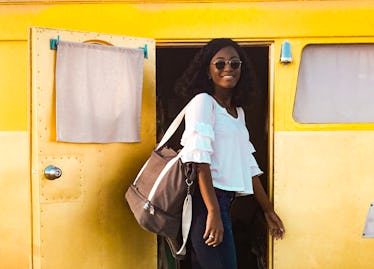 I Packed For A 10-Day Trip In Just A Carry-On Bag, Because It's Not Impossible
After visiting more than 30 countries, I've certainly learned a thing or two about packing efficiently. In my early days, I would try to fit literally everything from my closet into a suitcase, "just in case." I wanted to be prepared for any scenario that might arise, causing me to pack this dress and that shirt (along with a ton of other things). The reality is that most of us often pack way more than we actually end up using. These days, I've learned that packing light is the way to go. After packing in a carry-on for my trip to Costa Rica, I was never the same again. Here's how I packed for 10 days in a carry-on.
The less baggage, the better! Isn't traveling about leaving the unnecessary behind? I totally understand that sometimes it feels like you need to pack all of the things, but packing light just seems to make everything easier. You won't have to worry about lugging a giant suitcase around, you'll be able to save on airline baggage fees, and you'll be able to get a head-start on your adventures because you won't have to wait at baggage claim.
In the beginning, packing everything in a carry-on can seem impossible. However, it gets easier with time. Keep reading if you're ready to convert to the carry on-only lifestyle, because it's seriously the way to go.