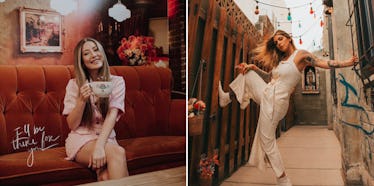 6 Instagram Influencers You Should Be Following For The Best Fall #Content
Caitlin Bea/Ivana Jorgensen
As someone who spends a majority of her days editing pictures, writing, watching vlogs, and looking at the latest #content, I feel pretty dialed into the social media world. I know what happens behind the scenes of the colorful posts you "like," and what goes into the stylish selfies with New York City's exquisite skyline. After lots of double-taps, I know what Instagram influencers to follow in 2019 too, if you're looking for sunflowers, oversized sweaters, and lots of fall inspo.
Believe it or not, it's almost that time of the year again when going to the local fairs and pumpkin patches becomes the norm. Your tastebuds are beginning to crave hot cider and cinnamon-flavored doughnuts. Despite your deep love for spending time at the beach, you might be sending messages in the group chat like, "Who wants to watch Halloween movies this weekend?" instead.
You may soon be covering your apartment in twinkly lights and knit blankets, or going into the city purely for the fresh flowers at the markets, trendy coffee shops, and the orange jumpsuits in the windows. (Don't even get me started on the preset packs you downloaded in preparation for the autumn things that'll be on your feed.)
Do yourself a favor and check out these six creative, unique, and super cool influencers on Instagram, OK? They have the best inspo for your upcoming content.