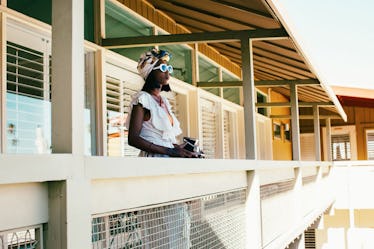 5 Clever Pics To Take With Your Passport, Because Your Bucket List Is Overflowing
If you're anything like me, you've had a bucket list since you were, like, 5 years old. Back then, it was scribbled in a notebook in hot pink gel pen, and listed your big dreams like, "eat the perfect grilled cheese," or, "learn how to skateboard." Then, you got older and slowly realized you could dream even bigger, and see the most beautiful places in the world in your lifetime. You began to add items to your always-growing list, such as "go snorkeling," and, "backpack through the dreamy cities of Europe." Now, you're in need of some cute and clever pics to take with your passport, because your bucket list is overflowing.
Don't stress. It's going to sound like a #weirdbrag, but I have the best ideas for #content in my brain. At any given moment, I'm daydreaming about the lovely photographs you could get in front of the Eiffel Tower in Paris, or the selfies you could snap with your besties along the cobblestone streets of Rome. When I'm not imaging these mini photo shoots, I'm scrolling through Instagram and saving the travel pics I want to recreate on my own trips. Hair scarves, plane wings, and huge bowls of pasta, included.
Needless to say, I know what kind of pictures you can take with your passport while you pack your suitcase or board your flight. They'll make your followers want to create their own overflowing bucket lists — I pinky promise.