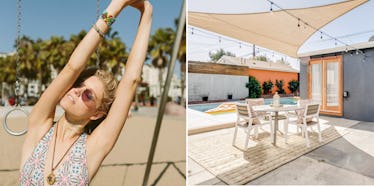 These Cool Airbnbs In LA Are Perfect For A Last-Minute Trip With Your BFFs
Cinemalist/Stocksy/Airbnb
Believe it or not, summer is already halfway over. (I know, it's shocking to me, too.) If you take a closer look at the calendar in your phone, though, you'll realize the longer and sunnier days are limited. The pages in your passport are filling up as you take the trips you've had planned out for months. *Cue the gasps.* Is there time to book one of the dreamy Airbnbs in Los Angeles and take a last-minute trip with your BFFs? Absolutely.
As far as I'm concerned, where there's a will to travel, there's a wave on the West Coast. There's a vintage store in the downtown area of the city with great deals, and a rollercoaster on a beautiful boardwalk that's calling your name. There's a cute café with the most Instagrammable treats and decor, and a surfing instructor who's excited to help you check an item off your bucket list.
The key is to find those hidden gems, come up with a detailed itinerary, and go. Summer doesn't last forever, and you deserve to have those experiences, like, right now. Start by booking one of these seven Airbnbs in Los Angeles with your BFFs. They're made for a sweet last-minute getaway — I pinky promise.