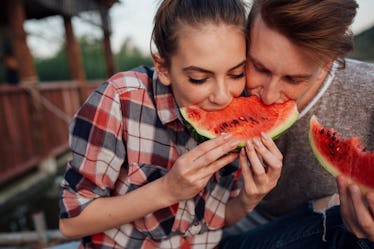 Here's How To Know If You're Legit In Love, Because Fireworks Are A Myth
"You'll just know." This was my mother's vague response when I asked her how to know if you're in love with someone, and needless to say, I was less than enthused by her response. To be honest, it seemed like a cop-out. Why, I wondered, can't anyone seem to accurately describe what being in love feels like? We've all heard rom-com movie characters talk about fireworks and pop stars sing about the all-consuming obsession that comes with a new romance, but is that really love? Or is it just infatuation? How can you tell whether you're just experiencing fiery passion or you've truly fallen for someone?
As it turns out, there are ways to know you're in love. And no, they have nothing to do with feeling butterflies in your stomach. In fact, research has revealed some common signs of being lovestruck. For example, people reported having new interests and personality traits after entering a loving relationship, according to one 1995 study. Another study revealed that falling in love can cause you to exhibit symptoms similar to those that come with anxiety, such as sweating more (woof, I know).
Of course, if you're thinking and talking about the person nonstop, or you're already envisioning a future with them, you may suspect you're in love. Still, those signals don't always indicate that it's the real thing. After all, in the beginning, your excitement around this new relationship could cloud your ability to see whether there's real potential for a long-term relationship. The chemistry is great, you have endless topics to talk about, and you haven't discovered all of their quirks, irritating habits or "flaws" yet. So it's pretty easy to fool yourself into thinking you've fallen head over heels.
Sometimes that fire fizzles out, but sometimes it grows into something pretty extraordinary. Luckily, according to Dr. LeslieBeth Wish, licensed clinical psychotherapist and founder of LoveVictory.com, there are ways to evaluate if what you're feeling is true love.