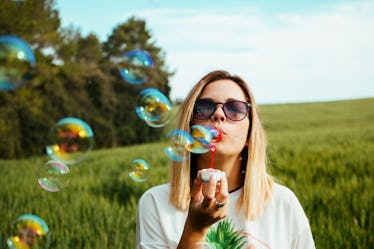 5 Easy Ways To Upgrade Your Life This Spring That'll Have You Living In Full Bloom
Rejoice, because the seasons are changing. Sure, there may still be a few piles of snow in the parking lot of your apartment complex. But for the most part, the world around you has begun making way for spring. The calendar app in your phone is notifying you about daylight saving time, and the local farmers' markets are starting to post their schedules. Even your best friend is here for this time of change, switching out the blanket scarves in her closet for sundresses and lots of sunnies. You feel like you should prep, too, and are wondering exactly how to improve your life this spring. It's about time you lived life in full bloom, you know?
Now, not to flood your screen with a bunch of puns and pressing deadlines, but spring is basically here, which means that you need to put your petal to the metal. You truly have to dedicate yourself to the changes you want to make, and do little things every day to push yourself forward to reach those goals.
You've been itching in your wool sweaters to get outside, and feel motivated by the nature around you. You've been looking at the resolutions you wrote down back in January and thinking, "Is it time to get started yet?" Yes, but let me put these five things on your radar, too. Your life is about to bloom.