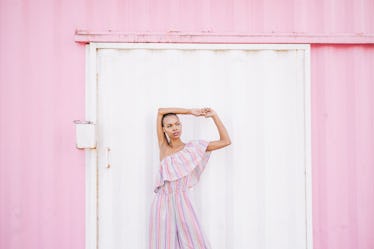 5 Solo Date Nights You Deserve To Take Yourself On This Spring
If you're anything like me, you're still getting used to calling yourself an "adult." At first, the label may have totally knocked you off your feet. You were sitting in your apartment, eating chicken nuggets and tater tots, and were in complete shock. You realized that you know how to pay rent bills on time, and have a grocery shopping schedule that you tend to stick to. What's going to happen next? Where does life go from here? Well, it's a lot more fun and carefree than you might think. This spring, in particular, you'll search for solo date night ideas for adults, and take yourself out on the town.
The truth is, you're part of the "real world" now. You're established as a professional and have mastered how much spaghetti to make for yourself for dinner. (That's a talent that I haven't quite developed yet.) When people ask you questions like, "Where do you see yourself living in the near future," and "Do you see yourself staying in this career," you have some answers. That deserves a round of applause. *Cue the claps.*
More importantly, though, it deserves a solo date night. It deserves taking some time away from your social life and other commitments to make memories with yourself. Deep tissue massages, star gazing, and sweet treats may or may not be inclued. (They will be.) The five ideas you need are right here.