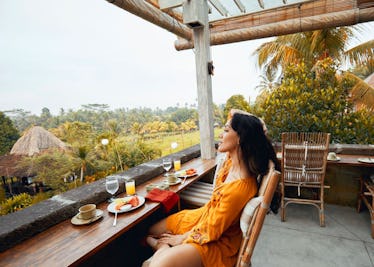 7 Unexpected Things You May Learn About Yourself The First Time You Travel Alone
For me, traveling has been more than passports and bucket lists. It's been more than packing up a suitcase, posting pictures of dreamy places on social media, and pairing them with captions like, "Wander where the WiFi is weak." That's because it's taught me so much. It's given me one-on-one lessons on life, love, and taking leaps of faith. It's made me realize my place in the world, and the power of empathy, passion, and personal victories. Most importantly, it's the one type of experience I love to do alone. The first time you travel alone, you discover so much about yourself. Let's dive right in, shall we?
First things first: You've learned a lot from your other travels, and it'll show when you're traveling alone. You may arrive at the airport and go through your usual routine in your head like, "Check bags, grab boarding pass, get to security, and then get a snack." It'll feel like second nature, and soon enough, you'll be eating a crispy chicken wrap while waiting at your gate.
A few hours or so later, you'll arrive at your destination with a lot of nervous energy and excitement. You'll call for a ride to your accommodations and get settled in — once again, going through the same 'ole motions with comfort and ease. Truth is, you know what you're doing and what to expect when you're traveling. The only thing different about traveling alone is that you may discover these seven things about yourself.