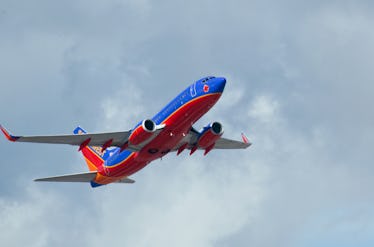 Southwest Airlines' 72-Hour Sale Will Get You $42 Flights If You Act Really, Really Fast
KAREN BLEIER/AFP/Getty Images
Before the year is up and the holiday craze commences, you might want to consider booking one last quick vacation to get that much-needed relaxation. If you act fast, you can score a deal your wallet will fully appreciate. Southwest Airlines' flash sale will get you super cheap flights, but there's no time to lose. Here's how to get $42 flights with Southwest Airlines during its quick sale.
The airline's famous 72-hour flash sale has returned, and travelers can save some major cash up until Thursday, Oct. 12 at 11:59 p.m., depending on the time zone of your departure city. One-way trips start at $42, and some of the eye-catching deals include $99 one-way flights from Los Angeles to Cabo San Lucas, $79 one-way flights from the New York City to Austin, and $49 one-way trips to Chicago and Washington, D.C., among others. Just think about where you want to go before the Thanksgiving madness and hectic Christmas shopping and have a look at the savings.
Looking to make your way out of the U.S.? No problem, Southwest has you covered. One-way trips from Fort Lauderdale, Florida, to the Bahamas are a mere $59 while flights to Costa Rica boast a comfortable price tag of $99. So if you're in the mood to get a little bit adventurous, definitely consider brushing off that passport — now's the time.
For future travel reference, here's a little travel secret.
If you're in the mood to make a trip and cure your wanderlust, you can look forward to savings with Southwest Airlines every June and October, according to CNBC. While you might be inclined to book a vacation at the beginning of the summer or perhaps at the end of the year, now you can pinpoint when you'll be able to score a deal. Who knows — perhaps these sales will allow you to make two trips instead of one.
While you're making your accommodations, there are a few things to keep in mind.
If you thought summer was busy, just wait until everyone on the planet tries to make it across the country for their annual family holiday dinner. It's hectic, it's tiring, and chaos is pretty much guaranteed. But fortunately, Google tracked the worst days to travel this fall, so you'll have a better idea about how to make it to mom and dad's without the added aggravation.
Per Google Flights' report, Friday, Nov. 17 (the Friday before Thanksgiving), Wednesday, Nov. 22 (the day before Thanksgiving), and Sunday, Nov. 26 (the Sunday after Thanksgiving), are the busiest days to travel this autumn, and when you think about it, these findings totally makes sense. Everyone's got to get home for that stuffing-turkey-mashed-potatoes combo.
Whether we like it our not, the end of the year is creeping up on us, and we're all going to want to head home at some point in December. According to Business Insider, flights can cost upward of 75 percent more during the winter (fun stuff), so you're definitely going to want to figure out the cheapest day to buy holiday flights. According to the app Hopper, 83 days before your departure is the best time to book flights for the holidays, so get calculating.
Now that you know when to hop on a flight and when to avoid the airport at all costs, let's think about the fun stuff.
There are plenty of things to do to celebrate the season, whether that means enjoying the fall foliage, getting spooked at a haunted house, or sipping on wine with your BFFs in a beautiful locale. Regardless of what your heart desires, you have the tools and the knowledge equipped for pro vacation booking, so get ready to make some travel plans. Safe trip, everyone.
Check out the entire Gen Why series and other videos on Facebook and the Bustle app across Apple TV, Roku, and Amazon Fire TV.