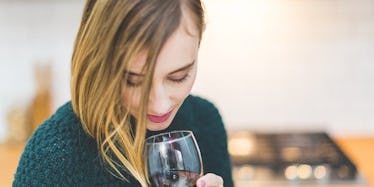 6 Fall Wine Festivals The Wino Needs To Cross Off Her Bucket List With Her Girls
Pexels
Oh, where to even start about the glorious world of wine? The amazing thing about the liquid greatness is that it's drinkable year-round. And if you're a wino like most people, you wouldn't be able to literally just drop it high and dry because another season has taken over. Since fall is basically here, it's time to start thinking about how to stay bundled up but still fulfill the wine enthusiast in you. There are a good amount of fall wine festivals that you and your squad can explore this season across the United States.
Whether you're a rosé, white, or red kind of a person, these festivals provide a plethora of magical wine options in different states. Even if you aren't a nose-deep-in-the-glass wine drinker, festivals make room for all kinds of wine opportunists and explorers. Besides, who needs to waft the aroma when you're simply so excited to taste the magically delicious drops of wine?
Another great thing about wine festivals is that you get to meet people of all levels. From experts to beginners, wine has once again managed to bring a solid group of like-minded sippers to a sole location. Geese, why is this stuff so great? So, even if you and your squad aren't necessarily in a city or state that manufactures gold star wine, you can take a trek to one of these fall wine festivals in a different neck of the woods. I'm pretty sure "cheers" is a universal term.
Autumn wine festival coming to Salisbury this weekend - WMDT https://t.co/glHZSkqNNp #WineFestival pic.twitter.com/TMKq22mJJf — World Wine Festivals (@Sulafestival) October 14, 2016
Head on over to Maryland right before Halloween to get your sip on. Not only will you be serenaded in wine options and good company, but the scenery in Maryland during the fall is drop-dead gorgeous. The vibrant yellows, reds, and orange hues coated on the leaves is just what you need as you spoil your taste buds with your friends.
Promo Social - The Premiere Photo Marketing Agency partnered with the Las Vegas Food & Wine Festival September 16th and 17th! pic.twitter.com/sfnDDkmuDe — Promo Social (@promosocialllc) September 23, 2016
Viva Las Vegas! And just like that, Vegas has found another way to pull at our heartstrings. The city already doesn't sleep, and now it's hosting an event that will surely have wine by the boatloads. Wine lovers clearly will be overwhelmed experiencing mouthwatering bites by local celeb chefs and an incredible selection of wines.
SAVE THE DATE! November 6-9 Big Sur Food and Wine Festival pic.twitter.com/MS3Aeh9OXk — Big Sur Food & Wine (@BSFW_Festival) August 14, 2014
Don't be fooled, because Big Sur is serving up more than just good surf. Get ready for some fine dining and hey, why not a scenic hike? That liquid courage will definitely get you up those trails.
Stop and smell the rosé. #wordstoliveby pic.twitter.com/jRvmKqk8ce — Denver Food and Wine (@FoodWineDenver) July 14, 2017
Tickets are already on sale for this November shindig. Taste some awesome wines and get some amazing food pairings from talented chefs. Food and wine? That's a no brainer.
craft_wine: Wine and Spirits Top 100, San Francisco, CA - Upcoming event: Early October 2017.… https://t.co/1pjPTe5o7V #WineFestival pic.twitter.com/nO91A1XZIs — World Wine Festivals (@Sulafestival) February 8, 2017
The Bay Area is always full of fun things to do. Sipping wine and gazing at the Bay Bridge defines relaxation to the max. It might be a little chilly, but think of it as a great time to bring out those cute knit sweaters, boots, leg warmers, and of course dark, fall lipsticks.
The Hawaii Food & Wine Festival, showcases food and wine from local farmers, fishermen, and ranchers! #diamondheadluau #foodandwinefestival pic.twitter.com/Oli8m0wMtG — Diamond Head Luau (@DiamondHeadLuau) May 18, 2017
Who would want to pass up a chance to sip wine in one of the most beautiful places in the country? Listen to those oceans waves as you create delicious currents of wine in your glass. Surf's up. Wine tasting is a dope group activity you and your squad can explore this fall. And if you're still sour about summer ending, just find yourself a nice glass of wine that literally tastes exactly like sunshine in a glass.