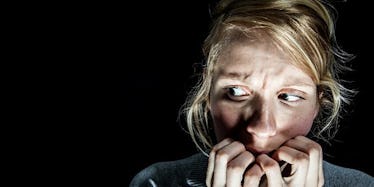 7 Scariest Haunted Houses That Will Make Your Girls' Road Trip Hella Terrifying
Benoit Daoust/Shutterstock
Taking a road trip with your girls is super fun, but while the spooky season is in session, why not add some additional thrill to your travels? It's that time of year where many are afraid of what lurks in the dark, and that's exactly how the people at haunted attractions want you to be. Some of the scariest haunted houses are right here in America, and they're just waiting for you and your girls to give them a go.
So, whether you're making a detour, or have planned your whole trip around the idea of visiting several of these spooky destinations, enter at your own risk. Oftentimes, it's not the fear of what's lurking around the corners of these places, but what or who is willing to follow you out. And while you're screaming your lungs out trying to get away from these fearful creatures and people, your ladies are right by your side, hightailing it to the car with you. You and your friends will make some thrilling memories and will also be traveling at the same time. So, if you're ready to ride through some scary and fun times, strap on your fear, seat belt, and clasp your girls' hands as you make your way to some of these haunted attractions.
Step into one of the most well-known haunted houses in the country. Bennett's Curse is famous for its downright terrifying and innovative themes that are sure to make the hairs on your neck stand up. Get through the entire nightmare-inducing attraction with your mains by your side... if you can manage making it through the first few minutes without getting chilled to the bone.
This terrifying attraction takes you through Dent Public School in Ohio. The actual school was open all the way back in 1894, when students apparently started to disappear. A janitor named Charlie was questioned about a weird odor emanating from the school's basement, but he claimed the odor was due to clogged pipes. When the basement was finally searched, decomposing bodies of the missing children were discovered. And as for Charlie? He was never seen again.
Keep your friends super close as you walk through six attractions within the walls of an abandoned state penitentiary in Philly. This place is incredibly huge, and features all sorts of spooks, from the "Infirmary," to the "Blood Yard." You'd think this would mean more space for running, but seemingly, there are a lot less places to hide... because you never know what's still haunting those cells.
Here's the thing about Dark Harbor aboard The Queen Mary -- you either run, hide, or jump ship if you can't handle the fear. The Queen Mary is already rumored to house ghosts, so adding a creepy maze probably makes them feel incredibly more at home. Not everything in Southern California is sunshine and rainbows, people.
As much as this attraction is not a hands-on one, you'll be screaming for someone to hold you in the darkness. From incredibly realistic decomposing faces, to a 3D experience, you may be in for more than you can handle. You're free to make your way to this attraction, but you may be screaming across state lines.
#KC Beast #HauntedHouse in the @HuffingtonPost #news! #Halloween https://t.co/5ADLOi4UpR pic.twitter.com/19O7E5DhcX — Beast-Edge of Hell (@Beast_HauntKC) October 29, 2016
Welcome to the biggest haunted house in the country -- The Beast. Head on over to this attraction where you'll literally be weaving in and out of the different scary options they offer, including The Werewolf Forest. Test your luck on a way out, which involves going down a four-story slide. Expect to scream going in, going down, and sprinting out.
OK, we're back in Pennsylvania, but that's only because they sure know how to house all of the creepy stuff in the name of Halloween. Try not to scream as you make your way through more than a mile of six attractions, complete with insanely horrifying monsters, zombies, and more. If you didn't like the mile run in middle school, you'll wish you paid attention in gym class after this. Put some extra haunting memories on your girls' road trip and try out some crazy attractions along the way. Friends who run, scream, and jump together, stay together.