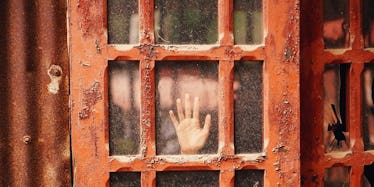 8 Most Haunted Places To Visit With Friends That Will Chill You To The Bone
SHTTEFAN/Shutterstock
What is Halloween if you aren't voluntarily scaring the hell out of yourself? Usually, we may not back the idea of ghosts or anything haunted, but somehow, Halloween makes us believe a little bit. No one wants to be scared by a person in a white sheet, though. Who wouldn't want a taste of the real thing? If you're looking for a haunted excursion that may very well make you almost wet your pants, it's time to start filling up your bucket list with haunted places you can visit with friends.
These haunted destinations are clearly creepy, but it's the intriguing history behind these places that we all eat up. The stories draw us in, Halloween vibes send us there, and the reality that they might actually be true sends us running the hell out. You just want to be able to say that you were there... aka, one of those places that they show on the Discovery Channel for its eerie nature and beware appeal.
Heading out to a haunted place this fearful season with your squad will be an adventure. Pack up the truck, make sure to bring a flashlight, and take a road trip to one of these haunted places you've probably ever only seen on television or on the internet. If you're having trouble deciding what spooky destination to scream at first, consider a few of these well-known haunts.
1. Alcatraz Island In San Francisco, CA
Don't let the island part of this place fool you into thinking it's a paradise within San Francisco. Alcatraz Island was once home to a federal penitentiary. Although some deny that it's haunted, tour guides and visitors say random creepy noises are heard across the establishment.
2. Whaley House In San Diego, CA
This gem has been called "the most haunted house in America" by Time Magazine and Travel Channel series America's Most Haunted. Dating back to the 1800s, the family who lived there allegedly encountered spirits as the land the house was built on was previously makeshift gallows. Since then, there have reportedly been multiple tragic deaths in the house.
3. The Myrtles Plantation In St. Francisville, LA
Do you see what I see? #themyrtlesplantation #themyrtles #haunted pic.twitter.com/WZxjOywLEu — Myrtles Plantation (@The_Myrtles) August 6, 2014
A picture is worth a thousand words, right? Tell that to Chloe, a ghost infamous on this land for actually appearing in photographs taken on the property. Talk about spooky.
4. The Goldfield Hotel In Goldfield, NV
@AaronGoodwin #Big Steppin at the #GoldfieldHotel today pic.twitter.com/L2OJGlDSbS — Michelle (@blakesleeM) August 20, 2017
There's a precluding theme here of women scorned and coming back to haunt everyone for it. According to legend, Elizabeth, a prostitute frequented by the hotel's owner, George Wingfield, still haunts the grounds today. When she became pregnant and claimed the child was his, she reportedly was lured into a room and held captive until the baby was born.
5. The Lizzie Borden Bed And Breakfast In Fall River, MA
I Tried (And Failed) To Spend A Night At The Lizzie Borden Bed and Breakfast #lizzieborden #truecrime #murderhttps://t.co/3HBzVUXWlp pic.twitter.com/bnkiCllOZq — The Lineup (@lineupweekly) January 12, 2017
We all know the nursery rhyme about Lizzie Borden. You won't need an axe to cut the crap and hightail it out of there at the first sign of something creepy. Why the heck do we do this to ourselves, anyway?
6. Historic Dumas Brothel Museum In Butte, MT
OK, this is probably not the most family-friendly place to go, so you should definitely grab your girlfriends for this one. The Dumas Brothel ran for over 90 years, which is why it is known to be the longest-running cathouse in America. One of the ladies still seemingly tends to her room.
7. Trans-Allegheny Lunatic Asylum In Weston, WV
Trans-Allegheny Lunatic Asylum https://t.co/L9rc1GtJmA #panicd #paranormal pic.twitter.com/0bmnxZdQcS — PANICd (@PANICdatabase) September 2, 2017
The title should already tell you enough about what went down here. The original hospital in the 1800s was designed to hold 250 people. The hospital closed in 1994 after changes in the treatment of mental illness and the overall deterioration of the premises.
8. The Sultan's Palace In New Orleans, LA
Sultan's Palace in #NOLA. #NewOrleans #fq #frenchquarter #spooky #paranormal #travel #visitnola #haunted #ghosts pic.twitter.com/kimc2x4Qnb — James Caskey (@ghostsavannah) July 23, 2014
Sultan's Palace in New Orleans has so much history, and that certainly includes the spooky kind. There are rumors of kidnappings, other gruesome facts about the establishment, and the "Sultan" who lived there in the 1800s. One day, police made a grisly discovery of blood throughout the palace in addition to body parts, and the Sultan buried alive.
If you like a thrill, you'll experience that and more if you visit these places with your friends. And maybe you can't get the full story of these places from people who were actually there, but you sure don't want to wait around for them to appear and tell you. It's time to get your spook on.