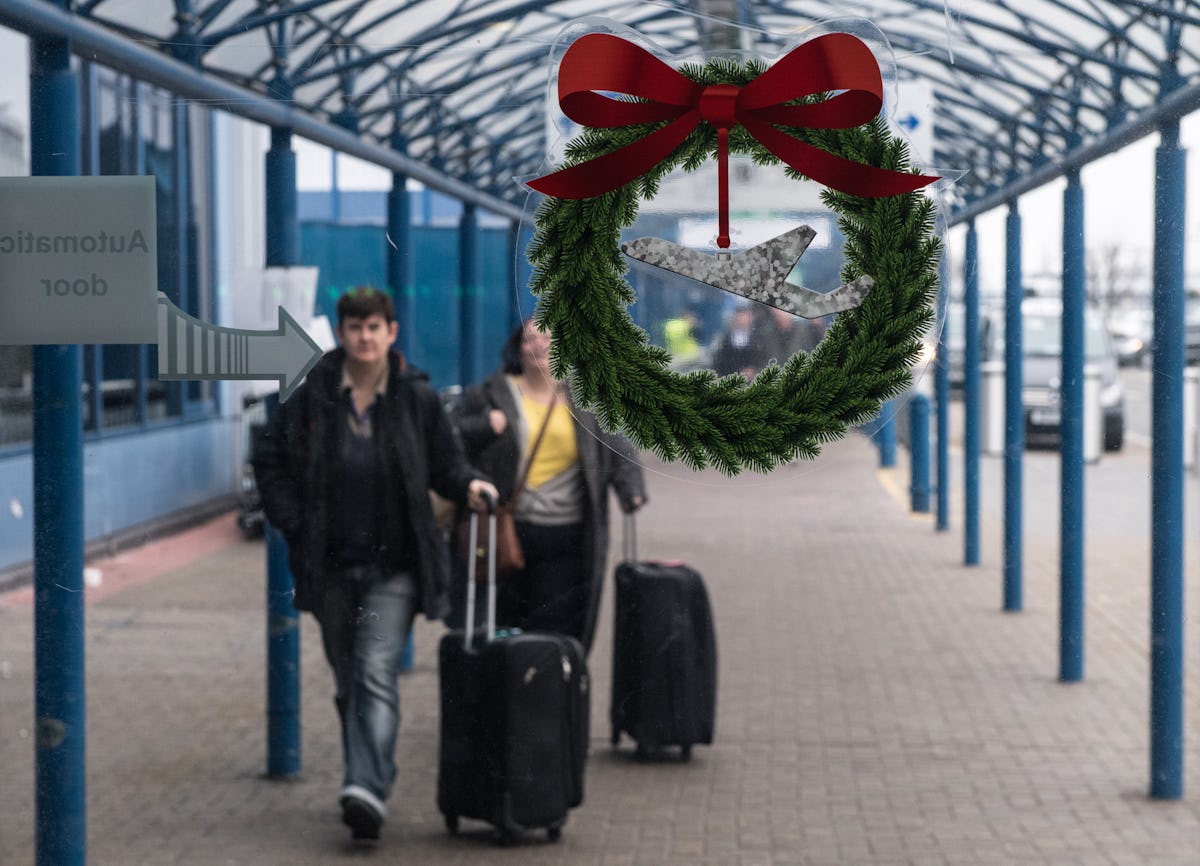 The Cheapest Days To Buy Holiday Flights Are Coming, Here's When To Purchase Your Tickets
Chris J Ratcliffe/Getty Images News/Getty Images
I know, I know, you haven't even had time to show off your sweet Halloween costume yet, so why would you want to start thinking about holiday travel now? Well, if you're into seeing your family who lives across the country and actually having money leftover after booking those flights, then you might want to start planning. If you really want to save a bundle, it's best to figure out what the cheapest day to buy holiday flights is.
According to Business Insider, flights can cost upwards of 75 percent more durning the winter compared to the months before the holidays (like, now). Business Insider also recommends booking Thanksgiving flights after you've taken care of air travel that will place around Christmastime, since that is the busiest time of the year. It might seem like common sense to book your trips chronologically, but that could wind up costing you some big bucks.
To determine when holiday flights are the cheapest, Business Insider turned to a travel app called Hopper. According to their website, Hopper is able to predict the price of future flights, so that you can make sure that you're always getting the best price. How do they do it? On their website, the company said:
Since Hopper launched, our data-science team has collected a huge historical archive of trillions of flight prices. We analyze that data to share with our users through insightful predictions that consistently perform with 95 percent accuracy.
By using that data, Hopper discovered that 83 days before your departure is the best time to book flights for the holidays, so that means you should get on it in the first week of October. Seriously, when you're done reading this, Go. Book. Your. Flights.
What happens if you procrastinate? According to Hopper's research, holiday airfare will begin to go up in price about $4 a day around Thanksgiving. If you go a little too hard on the turkey and your post-dinner nap lasts until just before the holidays, you'll be paying even more. The two weeks leading up to Christmas (Dec. 25) will see prices of flights rise $7 a day, according to research done by Hopper.
So, if you're finally convinced that you need to book your flights pronto, then you'll be excited to know that Hopper also has some good information about when to fly to get the best bang for your buck. Ready to take notes? OK, the cheapest days, according to Hoppers's research to fly are Saturday, Dec. 16 or Tuesday, Dec. 19. If you take to the sky on those days, you could save upwards of $110 — perfect for a little pre-holiday treat-yo-self day.
Whatever you do, try to avoid booking a flight for Friday, Dec. 22, because it is the busiest travel day of the season. When it comes to heading back to your abode after maybe a little too much family time, if you hold out until Thursday, Jan. 4, you'll be saving a pretty penny compared to staying at your parents' house on New Year's Day.
Now that you have you winter holidays planned, you can book for turkey day. When it comes to the day where pumpkin pie reigns supreme, Hopper's research found that prices start pretty high already (rude!) because airlines know that people don't have much flexibility with travel plans, since Thanksgiving is only one day. The good news is that prices will remain pretty much the same all throughout October. Waiting until November will see flight prices go up about $1 a day and then $10 a day in the two weeks leading up to Thanksgiving.
If you really want to save beaucoup bucks, Hopper recommends avoiding travel on Wednesday, Nov. 22 and Sunday, Nov. 26.
The holidays already have potential to be a stressful time, what with last-minute gifts and some good old-fashioned family tension, so give yourself a break on the stress of finding great flight deals — and start booking now.
Pro-tip: snag your rental car as well, unless you want to pull a Steve Martin in Planes, Trains, and Automobiles.