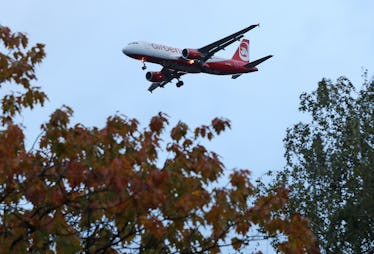 These Are Predicted To Be The Busiest Travel Days This Fall, So Avoid Them If You Can
Sean Gallup/Getty Images News/Getty Images
Travelers, with beautiful and beach-y trips summer '17 trips in the past, we must redirect our wanderlust in autumn's direction, trading the sweltering sun for falling leaves — a pro or a con depending on whether you love or loathe crisper weather. As you begin to book your fall travel, keep in mind that there are a few dates in November you might want to avoid, according to a Google Flights report released on Tuesday, Oct. 10. Keep reading to discover the worst days travel this fall. Hint: They all take place around a turkey-filled holiday.
Google Flights says Americans are "predictable when it comes to Thanksgiving travel plans," so they've used flight search data from the past two years to predict this year's most-likely-to-cause-annoying-amounts-of-stress-before-seeing-distant-relatives dates. If you've ever travelled remotely close to Thanksgiving, you'll soon be nodding your head in agreement that the following three dates are the literal worst at the airport.
These Are The Busiest Days To Travel This Fall
Per Google Flights' report, Friday, Nov. 17 (the Friday before Thanksgiving), Wednesday, Nov. 22 (the day before thanksgiving), and Sunday, Nov. 26 (the Sunday after Thanksgiving), are the busiest fall '17 holiday travel dates. Understandable when you think about.
If you fly home on Friday, you get an extra weekend plus three full weekdays with your family before Thanksgiving, so it's obvious why that day is so popular. However, because many companies only give employees Thursday and Friday off, the spike in travel the day before makes perfect sense, too. And of course, everyone tries to make it back the Sunday after Thanksgiving. It's just human nature.
What Does "Busy" Mean?
When Google Flights says these dates are "busy" days at the airport, they're of course talking about the sheer volume of people. (Expect lots and lots of stressed out people to be standing in line at security, running towards gates, racing to make connections, and generally just losing all sense of self because THERE'S PUMPKIN PIE AND ROASTED TURKEY AT HOME.) But beyond the increased foot traffic, Google Flights also predicts that these dates are more likely to experience flight delays and/or cancellations, aka every traveler's worst nightmare.
Which Dates Are Better?
If the thought of such crowds and inconveniences sends a shiver down your spine, the solution is simple: Do not book your Thanksgiving travel on Nov. 17, Nov. 22, or Nov. 26. Just don't.
In the same report, Google Flights revealed that Thanksgiving flight searches tend to spike in mid-October, meaning now's actually the perfect time to start thinking of an alternate plan. You could, for instance, fly in on Saturday, Nov. 18 or Tuesday, Nov. 21 instead of Friday or Wednesday. Then, maybe instead of leaving on Sunday, you leave Saturday, Nov. 25, or the following Monday, Nov. 27. To make comparing prices easier, be sure to download a travel app that lets you compare airlines and fares and play around with dates.
Popular travel app Hopper found that the first week of October is the very best week to book holiday travel, but since it has already past, I can only give you this friendly reminder: Book your tickets now! The longer you wait, the more expensive they will be — regardless of your preferred dates. In fact, airfare prices tend to rise $4 per day around Thanksgiving, Hopper's research states.
In conclusion, there are three dates you should avoid for fall travel (if you want to save your sanity, that is) and you pretty much should've already booked your tickets. Oh, and it's not even Halloween yet. Bye!
Check out the entire Gen Why series and other videos on Facebook and the Bustle app across Apple TV, Roku, and Amazon Fire TV.