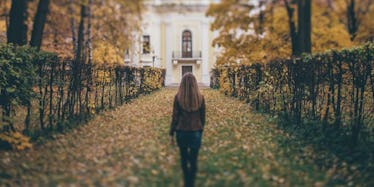 The Top 3 Travel Destinations For Fall Will Inspire You To Hop On A Plane ASAP
The glory days of Summer '17 are nearly behind us. So, in the spirit of crisper weather and Pumpkin Spice Lattes (it's not too early, you guys), let's talk about yet another fall favorite: travel! It's just as exciting and trendy as its sunny summer counterpart. In fact, the folks at KAYAK have compiled a list of the top three travel destinations for fall, so get excited.
To determine fall's travel hot spots, the popular flight deal app compared its internal data. They looked at searches placed from Jan. 1 to June 8 for autumnal travel dates (between Sept. 5 and Nov. 11).
Ahead, check out the destinations with the highest percent increase in searches year-over-year. Trust me, you'll want to check 'em out before we start the peppermint mocha and holiday chatter.
Havana, Cuba
In a press release announcing the key data points, KAYAK reported a 75 percent increase in searches for Cuba's capital city. Since travel restrictions were loosened under the Obama administration, the island nation has seen a spike in U.S. tourism. However, President Trump recently made a few changes to U.S. Cuba relations, and things are a little trickier now. It's best to book your trip with an authorized group or maybe even consider a cruise (Carnival Cruises has a route from Miami to Havana).
While you're there: Check out the world-famous Hotel Nacional, which has a super secret, must-see cigar shop in its basement, Travel + Leisure reports.
Lisbon, Portugal
KAYAK is calling Lisbon the new "It" locale, taking Iceland's photogenic place. While you won't find a spa-like Blue Lagoon in Lisbon, the Portuguese capital boasts a special beauty you have to see to believe. Lined with colorful tile work atop historical sites, it's an Instagram haven popping up on everyone's timelines — which probably explains that 46 percent search increase.
While you're there: Check out the popular Time Out Market Lisbon and be sure to try at least one (or 10) Pastel de Nata, a classic Portuguese pastry.
Madrid, Spain
Madrid is a huge city packed with spectacular views from every angle, so it's easy to see why it has attracted 38 percent more searches since last year. It's also home to Spain's royal family, meaning you just might spot the country's stylish Queen Letizia IRL.
While you're there: Check out the must-see Museo del Prado and take a stroll through Casa de Campo.
Where to first?