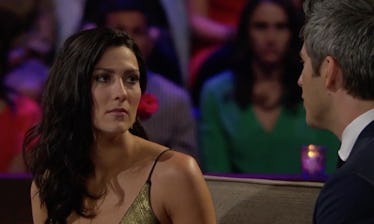 Don't Pull An Arie — This Is How To End A Relationship In The Nicest Way Possible
ABC
Now, more than ever, we could all use a refresher course in how to break up with someone nicely. "Why?" you ask. Well, because if you're a part of #BachelorNation, you know what an insensitive breakup looks like. In fact, all 7.8 million viewers who tuned in to the Season 22 finale of The Bachelor were schooled on what not to do when you break up with someone.
Um, like maybe don't show up unannounced with a camera crew in tow and bombard your new fiancée with a surprise breakup. Definitely avoid verbalizing selfish garbage like, "It kills me to see you like this but I'm so sorry.... I just want you to be able to move forward and know how I'm feeling." Oh and most importantly, don't linger after they ask you to GTFO. And if you have to propose to the woman you left your ex for, maybe don't do it in the same TV studio your ex is sitting in.
Arie's breakup with Bachelor contestant Becca was cringeworthy for everyone watching and screaming in agony from their sofas, which means it was only about a million times worse for Becca. Romeo and Juliet might have killed themselves for love but I think Arie and Becca's breakup will forever go down as the most tragic love-story ending ever from this point forward.
As for the rest of us — who aren't out here exploiting other people's emotions on national television for money and fame — I asked Lori Salkin, dating coach and senior matchmaker at SawYouAtSinai.com, for tips on how to break up with someone like a decent human being. Believe it or not, the goal isn't to figuratively rip their heart out and stomp on it maniacally.
So basically, don't pull an Arie. Try these three tips instead.