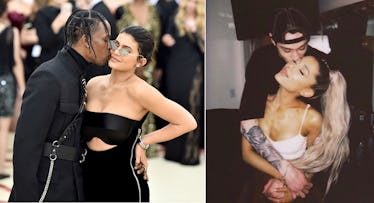 A Body Language Expert Analyzed How 5 Celebrity Couples Hold Hands, & It's Fascinating
Did you know you can actually learn a lot about the dynamic of a relationship based on the way the couple holds hands? Me neither, but it turns out a couple's hand-holding style actually reveals a ton about their connection, like if there is a dominant partner, and what a couple wants to project to the outside world. So of course, we wanted to use how celebrity couples hold hands to see what we could learn about some of our favorite famous duos.
To help with this, I reached out to body language expert Blanca Cobb, who underscored how important something as simple as holding hands is to a relationship. "Couples hold hands as a way to emotionally connect and show affection for each other," Cobb tells Elite Daily. "Touch releases oxytocin, a bonding and love hormone." However according to Cobb, not all hand-holds are created equal, and by looking at the different ways that celeb couples hold hands, we can get some fascinating insights into the inter-workings of their relationships.
"Hand holding is an indication of what's currently happening in a relationship, but you also have to analyze other body language cues to get a more accurate interpretation," Cobb explains. "For example, facial expressions and physical distance between a couple will give you more information about what's really going on with a couple." So, with that in mind, here is what Cobb saw when I showed her the following photos.