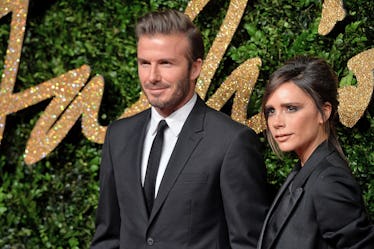 David & Victoria Beckham's Body Language Reveals This About Their 19-Year Marriage
Anthony Harvey/Getty Images Entertainment/Getty Images
Your body language with your partner — how you sit together, the way you pose in photos, even the way you walk down the street — is pretty important. Even the littlest things, like where you place your hand, can show people how happy you are in your relationship. And after nearly two decades of being married, David and Victoria Beckham's body language reveals quite a bit.
David and Victoria started dating back in 1997, when Victoria was making it big with the Spice Girls as Posh, and Beckham (AKA "Becks") was crushing it at the peak of his soccer career. The two got married in 1999, and have been together ever since, supporting each other in their career endeavors and having four children together.
I reached out to U.K.-based body language expert CJB Baxter to find out what David and Victoria's body language says about their relationship, and how it has changed over the course of their 19-year marriage.
The answer? It's clear that they're still going strong. Baxter does note that it's important to remember that we don't know what goes on when the cameras aren't around, but believes that Posh and Becks are content together.
"With all photographs, we can only deduce what's happening at that very point, what happens after the cameras have gone remains a mystery," Baxter says. "However these pictures do give us an insight into their emotions toward each other… and as you can see, there is still a loving bond there, 19 years later!"
Here's what the famous couple's body language has looked like over time, and what it says about their love.