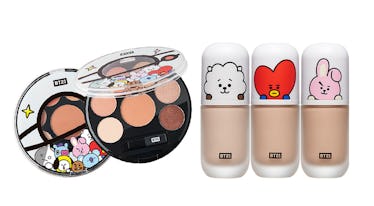 The BTS x VT Cosmetics Collection Won't Break The Bank, But There's A Catch
Personally, I don't know much about K-pop boy band BTS other than that they have incredible voices and that pretty much everyone else is madly in love with them. However, their recent makeup line collab is proving that these boys know as much about making beats as they do making a face look beat — to clarify, these products look as good as their music sounds. Once you see how cute the packaging is, you'll be dying to get your hands on it, too, so if you're wondering how much the BTS x VT Cosmetics Collection is, I'm here to break it all down, product by super cute product.
When I first heard about this collab, I had to do my research — full disclosure: it turns out that just as many people are obsessed with the boys' skin as they are their music. They've all got baby-soft, porcelain-smooth, crystal clear complexions, and now that I'm really deep-diving into up-close photos, my only question is: how? I'm betting the members of BTS all have extensive K-beauty skincare routines — or, equally possible, they've just been blessed by the skincare gods along with the music gods — but it seems as though a little base makeup is also to thank for their flawless skin.
The boys keep their face makeup fairly minimal, but there's no way a complexion that perfected is totally makeup-free, right?
Right?
Right. In fact, the boys have collaborated with VT in the past, on a color-correcting, brightening Collagen Pact that fans of the band (and dewy skin in general) rushed to snag when it launched in October 2017.
This time around, though, they've come out with a full collection, and each product promises seriously cute packaging along with formulas that guarantee a BTS-level glow:
Incredible, right? The only catch is, the VT Cosmetics website doesn't yet ship to the United States, so it's not going to be easy for American fans to get their hands on all this BTS goodness.
So, what does the collection include, and how much does it all cost? Before we turn to the main focus, which is the skin, let's take a moment to appreciate just how adorable the BT21 Eye Shadow Palette ($32, shop.vt-cosmetics.com) really is. The palette comes with a small brush and features one large, matte crease shade along with six shimmers, and it's available in two different color options, neutral "Mood Brown" and icy, cool-toned "Mood Indigo."
I really love that the palette's circular design gives off a CD-like feel as a nod to their music — plus, the swatches look incredible:
For anyone who loves a good neutral eye, the palette is a must, but I have a feeling many will choose to focus instead on the face products, since the boys are so renown for their great skin. First up is the Tinted Milk Cream ($22, shop.vt-cosmetics.com), which you can apply before or mixed into foundation for a brightened look.
According to this Before and After image on the sight, the milky formula will definitely lighten up whatever base products you choose to mix it with, so this might be one to pass if you prefer to look like more of a bronzed goddess than a K-pop star:
If you're looking for a little more radiance, the Tinted Shimmer Luminizer ($18, shop.vt-cosmetics.com) might be more your speed. It's guaranteed to brighten up your complexion without any wild glitter or sparkle, so it'll create more of a glow-from-within that also blurs pores and perfects. I wonder if the boys use this before photoshoots?
If you need to color correct before you even think about adding in some glow, opt for either of the Tinted Color Bases ($22 each, shop.vt-cosmetics.com) to even things out. There are two shades available: "Mint," a green to counteract redness, and "Lavender," a purple to cancel out any sallowness and give skin a healthy look.
Once you're prepped to perfection, feel free to go in with the Tinted Foundation ($25, shop.vt-cosmetics.com), if you fall in the very limited shade range available. I know they were most likely just catering to their Korean fans, but I hope they expand the shades in the future, because the lightweight formula sounds amazing. The brand suggests patting the product in instead of blending, so it can create a really natural finish and won't just sit on top of the skin.
The shades range from "Ivory," the lightest, to "Sand," the darkest, each adorned with their own cute little cartoon:
And along with the four foundations, the brand will offer four cushion compacts as well, all priced at $28 and available in two shades each. The Real Wear Cover Cushion ($28, shop.vt-cosmetics.com) is a semi-matte cushion that's great for masking blemishes and boasts SPF 37, and the Real Wear Fixing Cushion ($28, shop.vt-cosmetics.com) is a more matte, transfer-proof version with SPF 50. The Real Wear Water Cushion ($28, shop.vt-cosmetics.com) is the most glowy, dewy formula of all the cushions, which also has SPF 50, and the Real Wear Satin Cushion ($28, shop.vt-cosmetics.com) has, as the name implies, more of a satin finish, containing SPF 37.
Next up are the Fit On Sticks, available in four iterations that can be mixed and matched to further enhance the complexion for just $16 apiece. The Under Cover Fit On Stick ($16, shop.vt.cosmetics.com) has an orange-y red tint meant to counteract super dark under eye circles.
Based on this before and after, patting in just one swipe of this stick can be a major game-changer:
The Fit On Stick Primer ($16, shop.vt-cosmetics.com) can be used anywhere on the face where visible pores are an issue — just swipe it on and pat it in to smooth out texture effortlessly. Post-primer and foundation, the Fit On Stick Shading ($16, shop.vt-cosmetics.com) can be used as a contour stick, to swipe on and blend out for a BTS-like chisled jawline. To accent, the Fit On Stick Highlighter ($16, shop.vt-cosmetics.com) is an icy, pearly-pink highlight that can be tapped on for a finishing touch.
It feels like I've already picked out a bunch of absolute must-have items from this lineup, but hold your horses, because there's more. The final complexion product is the Cheek Cushion ($19, shop.vt-cosmetics.com), available in three cute shades and equally adorable compact packaging.
Moving right along to brow products, the collection has four shades of the Air Pitatu Brow ($14 each, shop.vt-cosmetics.com). The applicator features a droplet brush tip that can be used to draw the shape of the desired brow, plus a product-coated spoolie that can be used to brush through brow hairs and give the finished look a more realistic, natural feel.
Last but certainly not least, rounding out the collection are two different lip products. The Cream Lip Lacquer ($15, shop.vt-cosmetics.com) is available in four different shades, ranging from your standard nude to a statement red.
The water-resistant formula can either be applied full-on for a statement look, or placed on the center of the lips and blended out for that just-ate-a-popsicle pop of color:
And finally, the last product is the Lippie Stick ($13, shop.vt-cosmetics.com), which comes in the cutest pill-like packaging and has eight different shades to choose from. These can also be applied either full-on or blended out from the middle, and this formula is far more shiny and juicy than that of the Cream Lip Lacquer.
Not only do I want skin as flawless as that of the members of BTS, but I want just as badly to play with all the fun new products in this collection. I really like the variety of formulas: from cushion compacts to cream sticks to liquids, there's definitely something for everyone's personal preference. The collaboration launched on the VT Cosmetics site on October 12, and while they aren't yet shipping to the USA, I've got my fingers crossed they'll give us a way to get our hands on these products before it's too late.