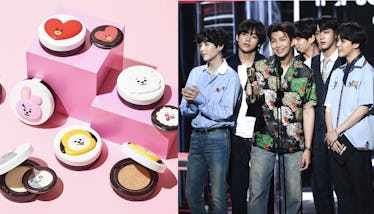 BTS Just Dropped A Makeup Collection With A Huge K-Beauty Brand & It Is Cuteness Overload
Instagram / Getty
When it comes to makeup, no one does adorable packaging better than K-beauty brands. And when it comes to boy bands, K-pop reigns supreme. (Sorry, Backstreet Boys and *NSYNC, but am I wrong?!) It makes sense, then, that BTS x VT Cosmetics' makeup collection, which combines the best of both industries, is total fire. Yes, you read that right: the boys of BTS have teamed up with one of Korea's most loved beauty brands on a collection of super affordable makeup, and the packaging is so friggin' cute that you're going to want one of everything before even knowing its purpose. Would you expect any less from a true power pair?
In case you're not up on your K-pop culture, here's some background information on BTS. Composed of seven members, BTS is a Korean band that released its debut album in 2013. Since then, it has skyrocketed in popularity among Korean and international markets, alike. The band's last two albums earned spots on the U.S. Billboard 200, Time named BTS one of the most 25 influential people on the internet, and in both 2017 and 2018, the group won the Top Social Artist Award at the Billboard Music Awards. (BTS is the first Korean group to ever win a BBMA.) Oh, and perhaps more importantly, the members of BTS are known for rocking coordinated outfits that put fashion week to shame. In short, they. are. huge.
Do you now see why this collaboration with VT Cosmetics is so exciting?
As reported by Cosmopolitan Philippines, the new line is designed around B21, BTS' cartoon avatars. (Each member has a super cute corresponding avatar because why the heck not?) One looks to be a fluffy white sheep; others include a big red heart, a pink rabbit, and yellow dog. The avatars are childish and bright and mood-raising — they're the perfect makings for a super adorable makeup collection.
The lineup includes eight matte lipsticks in shades called "pure coral," "vanilla pink," "pop orange," "awesome pink," "potent red," "mellow coral," "syrup red," and "nude brick," which each cost around $13 USD. The liquid lipsticks come with an avatar-topped wand applicator and look more like preschool school supplies than makeup, which I love.
Each lipstick sells for 15,000 won or about $13. There's also a six-pan eyeshadow palette, tinted base, and tinted foundation.
If you're a diehard BTS fan, then you probably know this isn't its first collaboration with VT Cosmetics. Last year, the band worked with the brand on a color-correcting cushion compact that helped eliminate redness and lines, and also contained SPF 50. (Skincare is huge in Korea, so it makes sense the compact would boast major SPF power!)
The new collection is set to drop October 12. Sadly, it's currently only slated to ship to Korea and therefore isn't available to international customers. However, seeing as BTS' stateside fanbase is absolutely enormous, I wouldn't be surprised if the collection is soon made available worldwide. If not, I see a pilgrimage to Seoul in a lot of fans' futures.