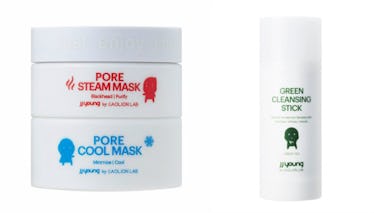 A K-Beauty Brand Just Launched At Walmart, So You'll Never Have To Overspend On Skincare Again
Walmart
It's no secret that Korean beauty brands have gained staggering popularity within the United States over the past five or so years. From the ever adorable Tony Moly to the skincare-obsessed Peach & Lily, they're at the forefront of every beauty lover's mind and wishlist. Unfortunately, they can sometimes be pricey and hard to find near you. But Walmart has just changed all of that by launching K-beauty brand JJ Young on its website.
As reported by Allure, JJ Young is unique in that rather than creating offerings in conjunction with the typical 10-step K-beauty routine (I am tired just thinking about that), it decided to streamline the process and narrow it down to five steps. Its five-product range focuses on cleansing, exfoliating, toning, treating, and moisturizing and is meant to be used by all skin types.
As described on the brand's website, JJ Young founder Eunhee Joo "decided to produce her own line of cosmetics using transformational but natural ingredients to formulate products that would treat every type of skin." It continues, "The brand sticks true to its convictions, including never testing on animals, avoiding harsh chemicals, and sourcing the purest ingredients from around the world for ultimate pore care." Sounds pretty great, right? It gets better. The brand is meant to have a playful and youthful vibe to it, so all of the products don't just work magic, they look a bit magical too. (Shoutout to the little smiley cloud guy stamped on all of the packaging!)
Below are five JJ Young items I'll be investing in stat. The collection is currently only available online, so head tom Walmart's website now and full up your virtual cart.
Go Green
I'm a sucker for any skincare product that contains green tea and also love products in stick form. Naturally, I need this cleansing stick! It calms, moisturizes, and exfoliates, and also dissolves makeup and oil in a hurry. The bet part? It's easy AF to pack for traveling.
Oh, Sheet!
It's a sheet mask, but also a mud mask, but also a rose mask. Can you say triple threat? Along with helping the mask adhere to your face, the bentonite clay and kaolin mud controls sebum and firms skin. Rosehip extracts also control sebum, while also calming and hydrating skin. This sounds like the perfect post-airplane product!
Come Clean
This cute little cleanser cuts through makeup and grease instantly and will also help remove dead skin cells, purify pores, and smooth your skin's surface.
Pink Perfection
This packaging, though! This cream is quick-absorbing and claims to calm, hydrate, tone, and smooth. So if you've spent a lot of time out in the sun this summer or your skin just needs some R&R, reach for a tube of this.
Double Decker
Because who doesn't love a two-in-one? The first mask is meant to eliminate dead skin cells and target blackheads via a charcoal powder-rich formula. Follow it up with the second mask, which has a cooling and pore minimizing effect.