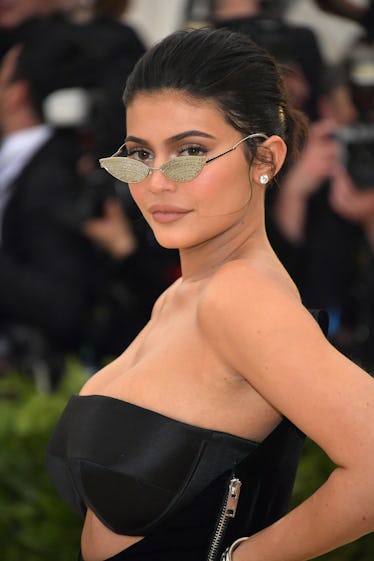 Here's How Much Kylie Cosmetics' 21st Birthday Collection Costs, So You Can Start Saving
Neilson Barnard/Getty Images Entertainment/Getty Images
If you're like me, you've probably already picked out your must-haves from the latest Kylie Cosmetics drop. Personally, I can't wait for my chance to rock the "Born to Sparkle" glitter shadow on my eyes with the new highlighter "Champagne Dreams" in my inner corner and on my browbone. For lips, you best believe mini matte liquid lip "Queen" is about to become my new go-to nude. If you, too, have already defined your favorites, you're probably wondering what the cost of Kylie Cosmetics' 21st Birthday Collection actually is. Fortunately, all the prices have now been announced, so get your wallet ready and find out how many new products you can afford below.
The main focal point of the collection is undoubtedly the "Sipping Pretty" palette, which features 21 eyeshadow shades and chic matte black packaging with a huge mirror. Since it's the brand's largest palette yet, it's also the most expensive, retailing for $65. When you do the math, that's basically around $3 per shadow, so you do get quite a bit of bang for your buck.
If dropping $65 on eyes doesn't exactly fit your lifestyle at the moment, I can relate, which is why the Liquid Eyeshadows are more my speed. All three shades — "Eat Cake," "Born to Sparkle," and "Fine Wine" — will be $20 each. So basically, you could pick up all three for less than the price of the palette, should you feel the need.
Moving on to the collection's only face product, pressed highlighter "Champagne Showers," the glow will cost you $28. Considering similar shade and cult-classic highlighter BECCA's Shimmering Skin Perfector in "Champagne Pop" ($38, beccacosmetics.com) runs $10 pricier, I'd say it's a fairly good deal.
Jenner's Birthday Collection features a whopping 18 lip products, available in a variety of trios, sets, and solo kits. If you're not looking to splurge, your cheapest option is to pick up one of the three Matte Liquid Lipstick Lip Kits, which retail for $30. "Baddie," "Tipsy," and "Twenty One" are all priced just one dollar higher than Kylie's standard Matte Liquid Lipstick Lip Kits ($29, kyliecosmetics.com).
For only $6 more, though, ladies in red will love the Birthday Lip Trio, featuring matte red liquid lipsticks "The After Party" and "Victoria," as well as glitter gloss "Shots," a juicy red with golden flecks. "The After Party" has warm undertones, while "Victoria" is a much cooler shade, so anyone can create their perfect red lip with this triple-threat trio.
Maybe you love Jenner's liquid lip formula, but can't decide which shade will suit you best? I recommend picking up the Hello 21 Mini Lip Collection, which includes six different shades. "Boss," "Victoria," "Rad," "Say No More," and "Boy Bye" already belong to the Kylie Cosmetics family, while nude shade "Queen" is a new addition. At $36 for the set, the same price as The Birthday Lip Trio, you can decide which option suits your lipstick style the best.
Closing out the collection are all-new shades of Jenner's new Matte Lipsticks in their bullet form. Shades "Flirtini," "Rumor," "August," "Glam," "Birthday Behavior," and "Rager" all cost $17 apiece, the same as the other Matte Lipsticks ($17, kyliecosmetics.com) already available on the site. If you're planning to buy them all, buying the boxed set will run you $90, which will cost less than if you were to buy all six individually.
If you choose to purchase the entire collection as one big bundle, the Birthday Mega Bundle, it'll cost you $415. However, Kylie Cosmetics also announced they'd be offering a special Twenty One Bundle, which, according to the brand's Instagram page, is a curated bundle featuring "Twenty One Lip Kit, the Birthday Palette, Rager Lipstick, 6 piece Mini Lip Set, Eat Cake Glitter Eyes, Champagne Showers Highlighter and the Birthday Makeup bag." So you won't nab all the lip products with this bundle, but it will cost a lot less: $195.
All in all, the pricing for the Kylie Cosmetics 21st Birthday Collection is pretty standard with the brand, with no real surprises and a few sets that will help save a few bucks for those of us who intend to buy everything. If you're in Los Angeles, you can shop the collection at the brand's Birthday Pop-Up Shop at Westfield Century City. As for the rest of us, we'll have to wait until the collection goes live on the brand's website on August 6 at 3 p.m. PST.