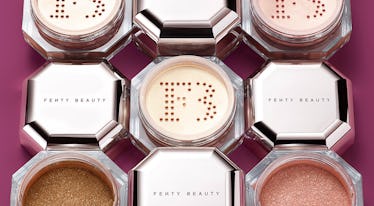 Here's Everything You Need To Know About The New Fenty Beauty Fairy Bomb Shimmer Powders
Courtesy of Fenty Beauty
In case you were wondering, my entire Christmas wishlist this year is Fenty Beauty products. Rihanna really didn't hold back when it came to her holiday collection, and even after the Chill Owt line launched, she's continued to drop more and more newness. If you saw the latest sparkly situation and wondered how much the Fenty Beauty Fairy Bomb Shimmer Powders cost, stay tuned for all the details on what has quickly become the number one beauty product I want to be gifted this holiday season.
A little shimmer goes a long way, but that doesn't stop Fenty Beauty from constantly doing the most — in the best way possible, of course. The brand recently announced a glitzy new product in three metal-inspired shades: it's a superfine, super stunning, shimmery powder that glistens on the face and body. Basically, imagine shaking out all the contents of a Fairy Bomb Pom Pom ($20, fentybeauty.com), and you've got the new Fairy Bomb Shimmer Powders ($28 each, fentybeauty.com). Or, imagine the brand's signature highlighters made a baby with their new loose eye pigments: the result would be this product. No matter how they dreamed it up, these little gems are absolute must-haves for anyone who wants a Rihanna-level glow. Aka, everyone.
I mean, just look at how beautiful they are:
At $28 apiece, these powders are available in three shades. "Coppa Chill" is a glitzy copper, "24Kray" is a true gold, and "Rosé on Ice" is a pinky rose gold. "Rosé on Ice," as a matter of fact, was the original powder packed into the brand's limited edition Fairy Bombs, while the other two shades are totally new. Each powder comes in a little pot protected by a lid perforated with the Fenty Beauty Logo as well as a metallic cap. They also have a coconut vanilla scent, because as I mentioned earlier, Fenty stays doing the most, and for that I thank them.
They seriously look like little treasures. I always stan products with packaging as gorgeous as the payoff:
Oh, and did I mention how they swatch? Please enjoy the world's most shimmery shoulders, courtesy of Fenty:
The brand posted some shots of the product being applied to using their Face & Body Kabuki Brush ($34, fentybeauty.com), and the results are a sparkly-but-still-classy sheen. It definitely doesn't look like the roll-on body glitter I applied in the cheerleading days of my youth; the 3D reflect from these powders blurs and perfects skin, giving it a truly radiant finish. The brand also notes that, while the sheered-out shimmer is great for the body, you can pack pigment onto eyes and cheekbones for more amplified payoff. Imagine placing this shine right on top of the browbone? Or on the inner corners of the eyes? I can't handle it.
So, where and when can you buy this powdered perfection? All three go live on the Fenty Beauty website, the Sephora site, and the Harvey Nichols site on December 7. From then on out, if you see me shining, know the Fairy Bomb Shimmer Powders are to thank.