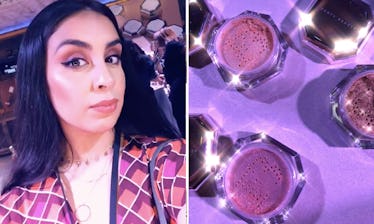 I Got A Sneak Peek At Fenty's New Fairy Bomb Shimmer Powders At SEPHORiA & My Glow Was So Bomb
Stephanie Montes
I'd say I have my finger on the pulse of beauty — my job literally depends on it — but honestly, I had no idea Fenty Beauty had a new product in the works. In my defense, though, nobody saw it coming. The brand sneakily held off on announcing the news of the launch until the opening day of SEPHORia House Of Beauty. Being the beauty spy that I am, I got my hands on a press pass and made my way into the weekend beauty event, straight to Fenty's activation, to do my own Fenty Beauty Fairy Bomb Shimmer Powder review.
First things first, here's the deal with SEPHORiA House Of Beauty: It was the first-ever interactive consumer beauty event held by Sephora in Downtown Los Angeles. The event is basically a two-day beauty bender complete with free product samples, industry speakers (like Jen Atkin), influencer and celebrity appearances (like Chrissy Teigen), endless makeup swatching, and photo booths galore. Think: Willy Wonka's chocolate factory, but for beauty. I mean, there was literally a garden of beauty products outside, and inside were three floor's worth of brand booths (50 total) making it rain makeup, skincare, and hair essentials. If you couldn't make it this time, don't worry — judging from the incredible turnout, there will surely be more to come!
The first thing I noticed when I got to Fenty Beauty's booth (and by booth, I mean huge space with makeup stations, makeup artists, selfie stations, etc.) was this giant replica of their unreleased Fairy Bomb Shimmer Powder. It was filled with gold confetti and made for the perfect Boomerang, so naturally, I got in there and tossed some glitter around. Next, I moved on to the really good part — actually trying the product. I sat in front of the lighted mirror of my dreams and got ready to have a Fenty artist paint my cheekbones with this gold dust that glimmered in front of me.
As you can see, the Fairy Bomb Shimmer Powder comes in three KiraKira-worthy shades: "Coppa Chill," the prefect shade of bronze, "Rosé On Ice," a shimmering pink shade, and "24Kray," a gorgeous golden glitter. As for the actual powder, here's where things get really good: If you're currently a fan of the Fenty Beauty Fairy Bomb Glittering Pom Pom ($42; sephora.com), the brand packaged the same formula sans puff, so you can swipe on the shimmer as thick as you'd like.
A single swipe of "24Kray" with a brush made me nod my head in major approval. Even with the slightly dim mood lighting on the basement level of SEPHORiA, my cheekbones inherited a million-dollar glow that could be detected through a Snapchat filter. And just like the OG powder-puff product, this one can be applied all over the body, so the glow isn't limited to just your pretty mug.
While the three Fairy Bomb Shimmer Powder shades made their debut at the SEPHORiA House Of Beauty, anyone who didn't attend can still get their hands on it eventually. Sadly, though, it won't be available until the loose powders launch globally as an online exclusive on Dec. 7. The good news is, that's still just in time to add to your holiday wish list.