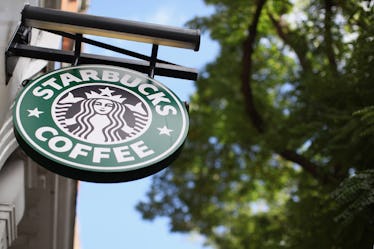 Starbucks' Happy Hour Prices Aren't The Same Every Week & Here's Why
Oli Scarff/Getty Images News/Getty Images
As someone who takes her coffee fix very seriously, I can say that Starbucks' Happy Hour deals have become a mid-afternoon lifesaver every week. The extra dose of caffeine gives me all the energy I need to power through work and then head out to a fun evening of Netflix binging and a Thai take-out session on my couch. The best part is that I can also feel really good about satisfying my caffeine cravings with all the major discounts I'm scoring on my favorite Starbucks drinks. It's a total win-win situation. If you're wondering how much Starbucks' Happy Hour drinks are, you'll need to follow these easy steps to score an invite to one. You can literally get up to half off your favorite caffeine sips, and it's life-changing for your coffee game.
For those who don't know about Starbucks Happy Hour deals, here's a quick refresher. Since March 27, the popular coffee chain has been offering its customers incredible deals on espresso, iced tea, frappuccino drinks, and more, according to a press release. For Starbucks devotees, that means major savings on the new frappuccinos could be up for grabs. There's just one catch, though: Because these steals are that good, they're invitation-only. But there are two super simple ways to make sure you never miss a coffee Happy Hour again.
The easiest way to get a hold of a covetable Happy Hour invitation with that day's savings is to simply sign up to become a Starbucks reward member. If you already go to Starbucks a lot, I'd do this anyway, because members get points on all purchases, free treats on their birthdays, and more. Once you sign up and download the Starbucks app, you'll receive a message with the next Happy Hour specials along with a code. When you find a Happy Hour drink deal that strikes your fancy, you can head to your local Starbucks, have a barista redeem your code, and then step out with your caffeine fix and a whole new outlook on life.
Let's say you don't want want to sign up to become a Starbucks Rewards member. Your other easy option is to head over to Starbucks' Happy Hour website. Simply enter your email address and your name to score a spot on the Happy Hour mailing list, and weekly emails will ensure that you'll be privy to all the Starbucks drink deals your heart desires. Immediately after signing up, you'll be redirected to a screen showing you the next Happy Hour deal and when you can get it. Like with the Starbucks Rewards program, you show the special code to the barista to obtain your favorite Starbucks drink for a fraction of the cost, and you're all done.
It's literally that simple to get your caffeine sips for cheap, either by becoming a Rewards member or signing up for Happy Hours on Starbucks' website. I like the surprise element of the program as well, because it's fun to plan ahead and have a caffeinated afternoon treat to look forward to later in the week. Plus, hot summer days ahead mean you'll definitely want to cool off with some of Starbucks' fun warm-weather offerings, like the secret menu's Mermaid Frappuccino and a millennial lilac Passion Iced Tea. These sweet treats could all potentially fall under Starbucks' Happy Hour discounts while definitely taking your Instagram game to the next level. And while I'm not going to ruin this week's surprise for Thursday, May 24, here's one hint: Bring a friend, because you'll be getting a second one of these caffeinated beverages for free.