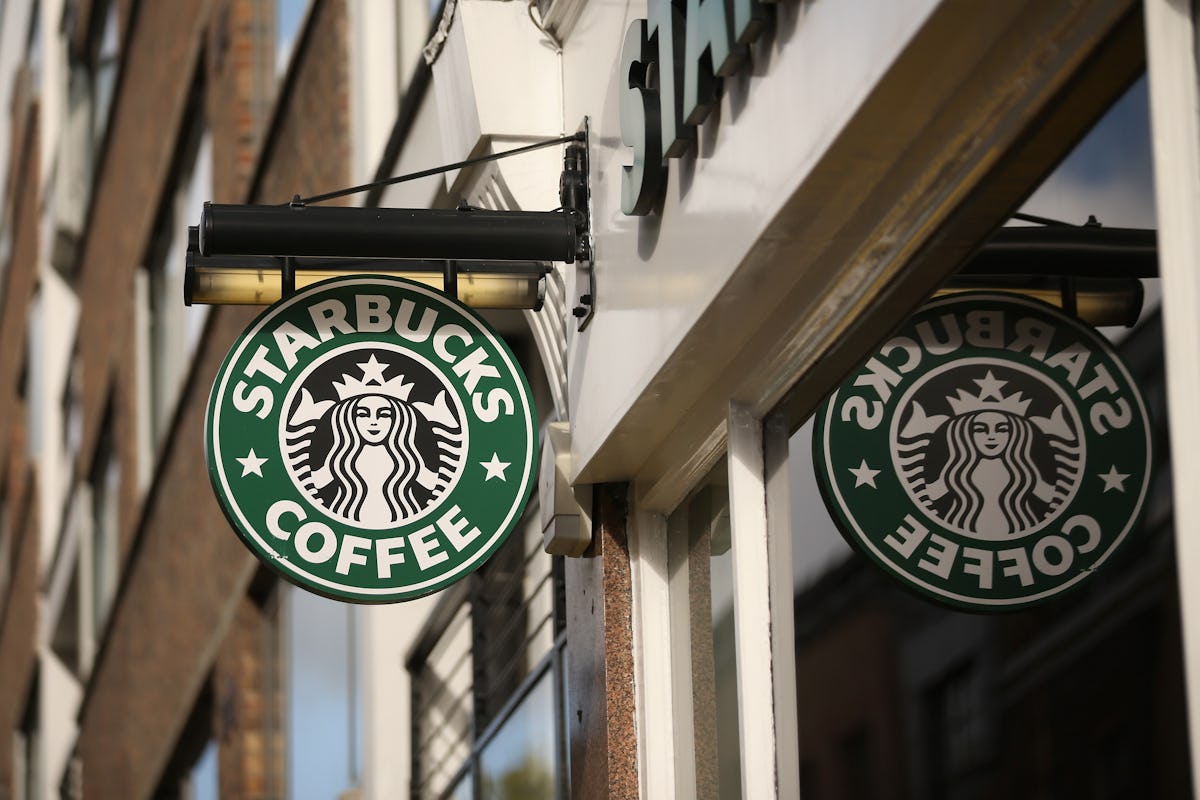 Starbucks' Rewards Members Aren't The Only People Who Can Get Happy Hour Deals
Oli Scarff/Getty Images News/Getty Images
In an ideal world, every long work day would conclude with a 5 o'clock Happy Hour with friends and coworkers. Fortunately for us, Starbucks understands the necessity, and they're giving it to customers (without the alcohol). While a couple rounds of post-work drinks on a Wine Wednesday may leave you with a pounding headache and some regrets the next day, Starbucks is giving us the caffeinated Happy Hour we all need to get an extra burst of energy to power through the rest of our evenings. Bonus: It's hangover-free. That being said, these Happy Hour deals are just so good that they're invitation-only, which might make you wonder, do you need to be a Starbucks Rewards member to get Happy Hour deals? Fear not, because there's a super easy way you can score discounts on your favorite Starbucks drinks every week — without being a Rewards member.
While my need for a cup of coffee every few hours during a work day has me unashamedly channeling Lorelai from Gilmore Girls, all my favorite fancy drinks can start adding up. Luckily, as of March 27 through the end of the year, Starbucks is offering Happy Hour specials on select beverages including espresso, iced tea, frappuccino, and more, according to a press release. What could be more perfect to help you cool off just in time for summer weather?
So, how do you get in on the deals and ensure a steady supply of discounted Starbucks coffee all year long? First of all, you do not need to sign up to be a Starbucks Rewards member to gain access to these extra-exclusive specials (although you will automatically be notified of all Happy Hour deals if you've opted to be a part of this program). TBH, it's so easy to sign up to be a Starbucks Rewards member on their website that I'd totally recommend it. After all, members get a free treat or beverage on their birthday, complimentary in-store refills, and points on all purchases. Let's be real, who doesn't love free perks?
The other super-easy option to get in on the Happy Hour deal is to just sign up on Starbucks' Happy Hour website, and it's perfect for people with even the biggest commitment issues. All you have to do enter your name and email address on a screen, then you're "on the list." The screen will show you the next Happy Hour drink deal and when you can get it, plus a special code that you can present to the barista at your local Starbucks to claim your mid-day cup of joe. Once you sign up, you'll get weekly emails with updated Happy Hour specials.
Anyway, if you do decide to sign up to be a Rewards member, you'll automatically be messaged about Happy Hour specials through the Starbucks app, which kind of makes it a fun surprise. Once you get the Happy Hour invite with the special of the day and the specific code, you can let your barista know that you want to redeem it, and you're good to go. It's literally so easy for coffee addicts to get their Starbucks fix on the cheap. So, depending on your needs, either sign up to be a Rewards member or simply sign up for Happy Hours on Starbucks' website.
With summer right around the corner and a slew of new drink offerings, there's never been a better time to join Starbucks' exclusive Happy Hour club. In just the past two weeks, the coffee giant has made all our dessert dreams come true with the additions of a Triple Mocha Frappuccino and an Ultra Caramel Frappuccino on the menu. Unsurprisingly, people are already obsessed with the upgrades — especially the fan-favorite cold brew-flavored whipped cream that can be added on top of pretty much anything.