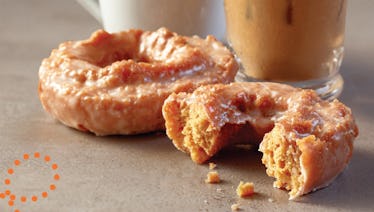 Krispy Kreme's Pumpkin Spice Doughnut Won't Be Available For Long, So You Better Try It ASAP
Courtesy of Krispy Kreme
Once the weather cools down and the pool floats are locked away until next summer, it seems like a barrage of pumpkin-flavored menu offerings pop up all at once. Krispy Kreme is no exception to this quintessential fall flavor, but that doesn't mean the themed bites will be around forever. So, how long will Krispy Kreme's Pumpkin Spice Doughnut be available? The good news is that you still have quite a while to enjoy the festive breakfast treat.
As soon as summer unofficially ended with the arrival of Labor Day, Krispy Kreme brought back a pumpkin-flavored doughnut that will thrill any fan of fall-themed sweets. Krispy Kreme's Pumpkin Spice Cake Doughnut hit the menu in participating stores all across the United States on Monday, Sept. 3, per Krispy Kreme. If the arrival of autumn brings with it a busier schedule than you'd like, you might be wondering if you have enough time to enjoy this limited-time treat.
Worry not, because the pumpkin spice-flavored cake doughnut will be on the menu through mid-November 2018, per Krispy Kreme. This is good news for all pumpkin spice-lovers, because Krispy Kreme has a tendency to run week-long specials on limited-time flavors. Not this time, though. You have over two months from the release of the Pumpkin Spice Cake Doughnut to get your hands on this sweet treat.
There's a good chance that this doughnut, which is described in a 2014 press release as "a moist, old-fashioned pumpkin spice flavored cake doughnut coated in Krispy Kreme's signature glaze," will make you a little parched. In that case, you should go ahead and add one of Krispy Kreme's Pumpkin Spice Lattes to your morning order. The doughnut chain's take on the classic autumn sip can be ordered hot or iced, and the pumpkin-flavored coffee is topped with "whipped cream and a pumpkin topping." OK, I seriously need to start rethinking my drip coffee in favor of heading to Krispy Kreme for a Pumpkin Spice Latte every morning from now until mid-November, when it also bids adieu from the menu with the pumpkin doughnut.
The Krispy Kreme Pumpkin Spice Latte arrived on the menu with its doughnut counterpart on Monday, Sept. 3. TBH, I'm super pumped about how long these pumpkin-flavored confections will be around to enjoy. Seeing as though autumn doesn't actually begin until the fall equinox on Saturday, Sept. 22, it's comforting to know that fall-flavored treats will be right there on Krispy Kreme's menu (until mid-November) to welcome the season of oversized sweaters and fallen leaves.
Even though you have plenty of time to indulge in Krispy Kreme's fall treats, there are many options out there to get keep your fall food choices on point. You can keep it cool with Pumpkin Pie Halo Top ice cream that arrived in grocery stores nationwide on Wednesday, Sept. 5, or you can warm up with Dunkin' Donuts' version of non-pumpkin fall-inspired morning meal options: Maple Pecan-flavored coffee and the Apple Crisp Donut.
If the pull of the cake doughnut keeps you going to Krispy Kreme, though, you should make sure that you head there on the first Friday of the month, because the chain recently announce that it would offer Chocolate Glazed Doughnuts on the first Friday of every month. The first one was Friday, Sept. 7, but you should probably mark Friday, Oct. 5 on your calendar, like, right now as to not miss out on the next one.
OK, I've thrown a lot of delicious options your way, but remember that you need to get on the Krispy Kreme Pumpkin Spice Cake Doughnut train before it leaves for the season in mid-November. Happy fall snacking!