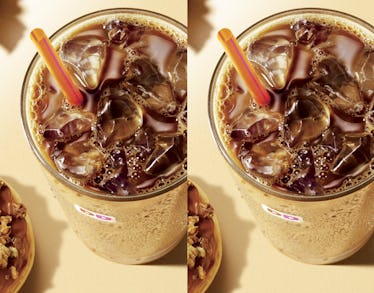 Dunkin' Donuts' Pumpkin-Flavored Coffee Is Coming Back SO Soon, So Get Ready
Even though the leaves aren't changing (yet) and it's still pretty hot out there, fall is right around the corner. If you're looking for a sign that fall is on the way, look no further than Dunkin' Donuts. Ahead of the official start of the autumn season, the coffee and doughnut store is bringing back a couple of its fall-inspired brews for you to enjoy. The best part? You don't have to wait until summer is over to order them. Dunkin' Donuts' Pumpkin-flavored coffee is coming back in August, so get ready to sip on the tastes of fall.
Fall doesn't officially start until Saturday, Sept. 22, at 9:45 p.m. ET (but, hey, who's counting?). Thankfully, you don't have to wait until then to begin the celebration. Starting on Monday, Aug. 27, you will be able to order pumpkin-flavored coffee at participating Dunkin' Donuts locations across the country. For anyone who is wondering, that's just one day before the rumored return of Starbucks' Pumpkin Spice Latte. Either way, Dunkin's latest pumpkin offering is likely going to be your new go-to fall drink. I'm so excited about Dunkin Donuts' pumpkin-flavored coffee, because it can be served in a variety of ways.
The fall brew can be ordered hot or iced, as well as in espresso beverages, frozen coffee, and cold brew coffee, according to the Dunkin' Donuts press release. Personally, I'm intrigued by pumpkin-flavored cold brew coffee. I usually don't add flavors to my cold brew, so that may be the first of many pumpkin-flavored coffees I order from Dunkin' Donuts.
The Massachusetts-based doughnut and coffee shop announced its fall coffee offerings on Wednesday, Aug. 15. But pumpkin-flavored coffee isn't the only big change coming to Dunkin' Donuts' fall 2018 menu. The doughnut shop also announced it will be pouring up a maple pecan-flavored coffee blend as well. Just like the pumpkin-flavored coffee, you can drink an iced maple pecan coffee, enjoy it hot, drink it in an espresso, in frozen coffee form, as well as in Dunkin' Donuts' cold brew. Sign me up.
While you're ordering your pumpkin-flavored (or maple pecan) coffee, take a gander at the new fall food items on the Dunkin' Donuts menu. Also on Monday, Aug. 27, you will be able to snack on an Apple Crisp Donut and order a bagel with Maple Cream Cheese Spread, according to Dunkin' Donuts. It is also releasing two new breakfast sandwiches, including the Belgian Waffle Breakfast Sandwich and the Maple Sugar Bacon Breakfast Sandwich. That's not all, though. To further satisfy your fall cravings, Dunkin' Donuts will also sell a Pumpkin Donut and Pumpkin Muffin. If it were me, I'd order the iced pumpkin-flavored coffee with a Pumpkin Donut.
Leave it to Dunkin' Donuts to usher in a bit of fall while summer still lingers. I'm not mad about it, though. I'm here for all things pumpkin-flavored (even in summertime). I know I'm not alone when I say that fall is hands down my favorite season. Suffice to say, I can't wait until Aug. 27 to order a pumpkin-flavored coffee. Pumpkin and maple anything seems to be the signature flavors of fall and the new Dunkin' Donuts menu captures them perfectly. Well played, DD.