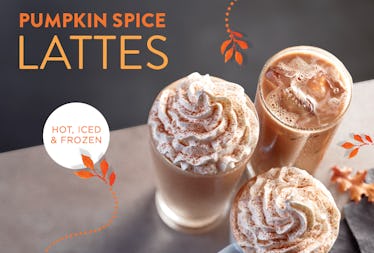 Krispy Kreme's Pumpkin Spice Latte Is Finally Back For The Perfect Fall Sip
Krispy Kreme
'Tis the season for all things pumpkin spice. Fall is almost here and it's truly one of the most wonderful times of the year. I'm talking sweater weather, pumpkin carving, bonfires, and, of course, pumpkin spice lattes. It's (slowly) cooling down out there and you're going to need something other than a big scarf to help you defrost. Krispy Kreme's Pumpkin Spice Latte is back to warm you up on a chilly fall morning. It is chock-full of bold pumpkin flavors you know and love. You'll want to order the Pumpkin Spice Latte soon, though, because it will only be available for a limited time.
Each year, Krispy Kreme brings its version of a Pumpkin Spice Latte out of hibernation. It's a glorious time when the robust flavors of pumpkin are combined with creamy milk and some of the season's most recognizable spices like nutmeg and cinnamon. This all comes together to create Krispy Kreme's Pumpkin Spice Latte. If you're already craving a sip, I have good news. The fall-inspired beverage returned on Monday, Sept. 3, according to Krispy Kreme. It is available for purchase at participating Krispy Kreme locations nationwide, but only for a short amount of time. You have until mid-November to order a Pumpkin Spice Latte from Krispy Kreme. While it seems like plenty of time, it will be gone before you know it.
One of the best things about Krispy Kreme's Pumpkin Spice Latte is that you can order it three ways: frozen, iced, or hot, according to the doughnut retailer. This is good news because, while some parts of the country are starting to cool down in preparation for the fall season, much of the nation is still sweating away. (Hello from the Sunshine State!) That's why it's great Krispy Kreme is giving fall-lovers who live in warm weather locations the option to enjoy a taste of the season iced or frozen. On the other hand, Krispy Kreme's Pumpkin Spice Latte is also perfect for those chilly fall mornings when all you want to do is crawl back under the covers and go to sleep. The pumpkin-flavored coffee drink will warm you right up, while also giving you the extra boost of caffeine you need to make it through the day.
While you're at Krispy Kreme, make sure to order a Pumpkin Spice Cake Doughnut to go with your Pumpkin Spice Latte. (I won't judge you if you dunk your doughnut in your coffee, either.) Like the PSL, Krispy Kreme's Pumpkin Spice Cake Doughnuts are also only available for a limited time. You can snack on this fall treat through mid-November at participating stores. Cake doughnuts are the best doughnuts because of their dense texture and sweet flavor, and when you add pumpkin spice to the mix, you really can't go wrong.
There are a lot of different adaptations of the pumpkin spice latte out there to try. Krispy Kreme's version is worth adding to your PSL bucket list to keep you warm (or cool) this fall.