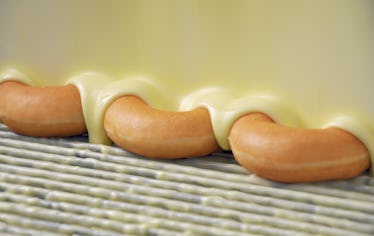 This Krispy Kreme Summer Flavor Is Back For A Limited-Time Breakfast Treat
Krispy Kreme
You may already be dreaming of pumpkin spice and everything nice, but Krispy Kreme is here to make sure that summer gets the proper sendoff. Krispy Kreme's Lemon Glazed Doughnut is coming back for a limited time this summer, so order up while you still can. The citrus-flavored doughnut is the perfect sweet treat to cap off the dog days of summer.
Hold off the Pumpkin Spice Lattes and the fall-inspired treats for a little while longer, because summer isn't quite over yet. Starting on Monday, Aug. 27, Krispy Kreme will bring back its beloved Lemon Glazed Doughnut for one week only, according to a press release from Krispy Kreme. The fan favorite doughnut will only be available at participating Krispy Kreme locations across the United States and Canada. Before you head out on a doughnut run, check with your local Krispy Kreme to be sure they have the Lemon Glazed Doughnut. Oh, and don't forget to grab yourself one of the chain's iconic white paper doughnut hats while you're there.
You may remember earlier in January 2018 when doughnut lovers everywhere voted in Krispy Kreme's #VoteForGlaze campaign. Fans made their selection loud and clear as lemon was the resounding choice for Krispy Kreme's latest Glazed Doughnut flavor, per a press release from the doughnut chain.
"The Lemon Glazed Doughnut embodies so much of what we love about summer – a season we're just not quite ready to let go of. Bringing back the perfect pairing of zesty fresh lemon and sweet Original Glaze is an awesome way to stretch summer out just a bit longer," Alison Holder, head of US Marketing for Krispy Kreme Doughnuts, said in a press release.
Krispy Kreme announced the return of the popular Lemon Glazed Doughnut on Wednesday, Aug. 22. This gives you plenty of time to plan out how many Lemon Glazed Doughnuts you are thinking about eating during the seven-day window.
I've never had the great honor of tasting a Lemon Glazed Doughnut from Krispy Kreme. I am, however, a big fan of the doughnut shop's regular glazed doughnuts (and all things lemon). First of all, a plain ol' Krispy Kreme Glazed Doughnut just melts in your mouth. Upon the first bite, it literally dissolves on my tongue. I'm not mad about it, either. I know it's cool to be into all of those trendy doughnut shops that are popping up everywhere, but Krispy Kreme's Glazed Doughnut may just be my favorite of them all.
Now comes the next best part: lemons. I love the refreshing flavor of lemon. While the yellow fruits are known for their tartness, I'm imagining the Lemon Glazed Doughnut must taste a little something like lemonade when mixed with the sugary glaze. Either way, Krispy Kreme's Lemon Glazed Doughnut is the perfect end-of-summer treat.
Sunday, Sept. 2 will be the last day to purchase a Lemon Glazed Doughnut from Krispy Kreme. Before you break out the cozy blankets and light your fall-scented candle, give summer the goodbye it deserves by indulging in a Lemon Glazed Doughnut. Remember to order yours hot and fresh. That's the only true way to enjoy a Krispy Kreme Glazed donut.