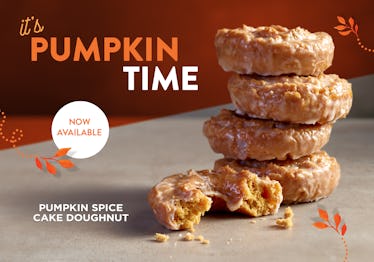 Krispy Kreme's Pumpkin Spice Doughnut Is Here To Totally Upgrade Your Fall Mornings
Courtesy of Krispy Kreme
I'm completely unashamed to say that I'm what many might refer to as a "serial dipper." I always need sauce to accompany my fries, whether it be ketchup, curry sauce, or hot sauce. And don't even get me started on what I dunk into my coffee: it could be a croissant, it might be a bagel, or it could even be a PB&J. Yep, I know it's weird. Anyway, I usually just end up dipping doughnuts into my coffee, and to kick off pumpkin spice season (aka the greatest season of them all), Krispy Kreme's Pumpkin Spice Cake Doughnut is finally here. This new bite in combination with the chain's house-made PSLs means that my fellow dippers around the world can finally (and shamelessly) indulge in pumpkin spice heaven, at long last.
I don't know about you, but I've been waiting for pumpkin spice season to arrive for many, many months now. Not only is this time of year perfect for dipping pumpkin pie-flavored doughnuts into pumpkin pie-flavored coffee, but it's also simply the absolute greatest (and tastiest) season. Krispy Kreme debuted its Pumpkin Spice Cake Doughnuts along with the chain's Pumpkin Spice Lattes in-stores on Monday, Sept. 3. These fall-ready confections and sips will be available at participating Krispy Kreme locations until mid-November, according to Krispy Kreme. Make a point to get your hands on both the doughnut and the coffee ASAP, because you definitely won't want to miss out on this surreal dipping experience.
The Pumpkin Spice Cake Doughnut is exactly what is sounds like. According to a 2014 Krispy Kreme press release announcing the breakfast bite, it's "a moist, old-fashioned pumpkin spice flavored cake doughnut coated in Krispy Kreme's signature glaze." I'll take two (dozen), please.
If you've never had Krispy Kreme's version of a Pumpkin Spice Latte, it's kind of similar to those you may have come to know and love. Heck, it might even be better. It combines classic pumpkin flavors with thick, creamy milk as well as other fall spices like nutmeg and cinnamon. All of this ends up coming together to create Krispy Kreme's Pumpkin Spice Latte — and let me tell you, it's an autumn miracle. Just like the Pumpkin Spice Cake Doughnut, this sip is available to order at participating Krispy Kreme restaurants nationwide, but it'll also only stick around until about mid-November as well. Whether you order it iced, frozen, or hot, I can tell you're about to have one of the greatest fall seasons of your entire life.
Oh, and a pro tip: Try planning your trek to Krispy Kreme on the first Friday of the month. Starting on Friday, Sept. 7, the doughnut haven is going to start selling Chocolate Glazed Doughnuts — a rare treat that the bakery doesn't usually serve — on the first Friday of each month. Similar to the Original Glazes Doughnut, the Chocolate Glazed Doughnut has an added rich chocolate flavor that's honestly irreplaceable. These glorious gifts from above will be available at participating U.S. Krispy Kreme locations on the first Friday of every month, so prepare yourselves (and your wallets).
Few things can surpass the feeling of dipping something delicious into your coffee, unless, of course, it's a Pumpkin Spice Cake Doughnut you're dipping into a Pumpkin Spice Latte. Krispy Kreme is seriously making dreams happen out here, you guys, so get in on this before it's gone.