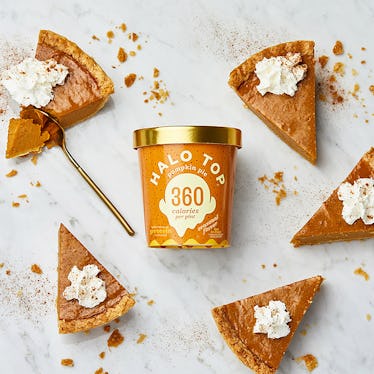 You Can Score Free Pumpkin Pie Ice Cream This Fall, So Save Room For Dessert
Courtesy of Halo Top
Labor Day 2018 has officially passed, which means summer is pretty much over. Now, it's time to buy pumpkin-flavored everything in celebration of the autumn months ahead. Nothing tastes better than pumpkin-flavored dessert, though — and Halo Top understands that. The popular creamery is bringing back its Pumpkin Pie ice cream flavor on Sept. 5, and fans can get a complimentary pint of it when the first day of fall comes. If you're someone who loves a slice of pumpkin pie with a scoop of vanilla on top, you're probably wondering how to get free Pumpkin Pie Halo Top ice cream on Sept. 22. The process is simple (and totally worth it).
In order to score a free pint of Halo Top's Pumpkin Pie ice cream, you'll have to first visit Halo Top's special webpage honoring the the flavor. The page, titled "Say Halo To Pumpkin Pie," provides information about how you can get a free pint on Sept. 22 (the first day of fall, obviously). However, visiting the website is only the first step of getting your free ice cream. Believe it or not, you'll need to come back to that exact page on Sept. 22 at 12:01 a.m. ET in order to print a coupon for your complimentary pint. (I'd bookmark the site if I were you.)
Once you print your coupon, you can redeem it at retailers nationwide and get your free pint of Pumpkin Pie Halo Top. Keep in mind that you can only redeem it on the first day of fall (Sept. 22), and that the pints will be available while supplies last.
If you're not into pumpkin pie-flavored treats, you can actually redeem your coupon for any Halo Top flavor available at your local store. To check out the rest of Halo Top's ice cream flavors, visit the company's website. (I'd still suggest going with Pumpkin Pie — but that's just me.)
Just because Pumpkin Pie Halo Top is available for free at the end of September doesn't mean it's not in stores yet. Believe it or not, the fall flavor hit the shelves on Sept. 5, which means you can now head to the grocery store and pick it up. Of course, you'll need to pay for it — so if you're hoping to save a little bit of cash, wait until the first day of fall. Don't wait too long, though, because the flavor is only available until mid-November while supplies last, per Halo Top.
Apparently, Pumpkin Pie was the best-selling Halo Top flavor of fall 2017, so make sure you get your hands on it while you can (whether you choose to pay for it or not). If you like it as much as everyone else, you might want to try other fall-inspired ice cream flavors. One of my favorites is the the Candy Corn Milkshake served at Disney World. Sure, it's not pumpkin-flavored, but it'll give you all of the autumn #vibes you need. If you'd rather stick with the pumpkin spice flavor scheme, go ahead and try Enlightened's Pumpkin Spice Latte ice cream. You can't go wrong with some PSL action, right?