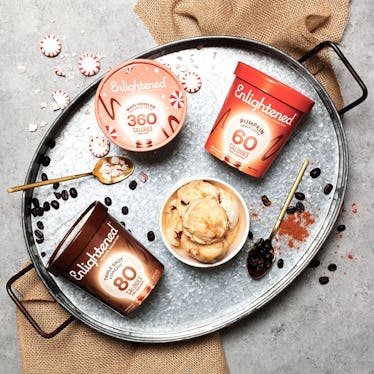 This Pumpkin Spice Latte Ice Cream Is A Perfect Transition From Summer To Fall
ENLIGHTENED
In addition to some serious post-Labor Day Weekend withdrawals, I'm also struggling to convince my body that summer is almost over. It's still 80 degrees outside, and stocking up on cozy beverages and Halloween candy right now when I'm still blasting my air conditioner at full force just seems so wrong. Sweater weather feels months away, which is why I'm so here for Enlightened's Pumpkin Spice Latte Ice Cream. It's all your favorite Basic Betty flavors in a pint of frozen goodness, and it's the perfect transition from summer to fall.
The New York-based ice cream company has released what might be the most mouthwatering twist on a PSL that I've seen yet. Forget Pumpkin Spice donuts or PSL Dunkin' Donuts, because PSL is now available in ice cream form. Enlightened, which touts healthier ice cream options that tend to be high in protein and low in sugar, just launched its Barista collection, which is — you guessed it — all about coffee. According to its blog, the retailer's brew-inspired offerings include:
Pumpkin Spice Latte (don't let anyone tell you it's basic), White Chocolate Peppermint Mocha (yes, it does taste just like your fave coffee shop's version ... ), and Triple Shot Espresso (it's true, NYC is the city that never, ever, ever sleeps).
Obviously, the Pumpkin Spice Latte flavor caught my eye, because how good do swirls of pumpkin, nutmeg, cinnamon, and allspice layered with creamy espresso sound? Plus, one refreshing serving only comes to 60 calories, so you know I'll be stocking up on like 20 of these autumnal bad boys.
I'm all about Starbucks' Pumpkin Spice Latte, but definitely had some mixed feelings over the fact that the cult favorite beverage was released on Aug. 28, aka before I even got my Labor Day barbecue fix on. It was the PSL's earliest release ever, and my taste buds were seriously conflicted by the sudden onslaught of autumn. The best part of the ice cream twist is that you don't have to choose between partaking in the flavors of your favorite festive fall drink and the fact that it's hot outside. In these late summer days, you might still rather be relaxing poolside than bundling up in a sweater. I just don't get the rush. Can I hang on to sunkissed skin, pool floaties, and ideal ice cream weather just a little bit longer?
If you're not the biggest PSL fan, Enlightened is also offering two more flavors inspired by your favorite festive brews. The White Chocolate Peppermint Mocha and Triple Shot Espresso (which clock in at only 90 and 80 calories per serving of caffeine-infused deliciousness, respectively) sound like your favorite coffee shop drink orders.
According to an Enlightened rep, your pint of White Chocolate Peppermint Mocha will feature a coffee ice cream base mixed in with ribbons of chocolate mint and white chocolate chips, while the Triple Shot Espresso is serving all the caffeinated goodness. Coffee ice cream is mixed with espresso chips and espresso ribbons for the ultimate coffee lover's treat.
Any of the three options is perfect to cool you down during that weird period between seasons, but I'd start stocking up now. According to Enlightened, the festive flavors are only available until the end of 2018, so you should head to your local Whole Foods, Safeway, Albertsons, ShopRite, Hy-Vee, or Weis before "the barista clocks out." Happy nomming.